This post is brought to you by Marketing Results Head of Strategy, Kieron Brown.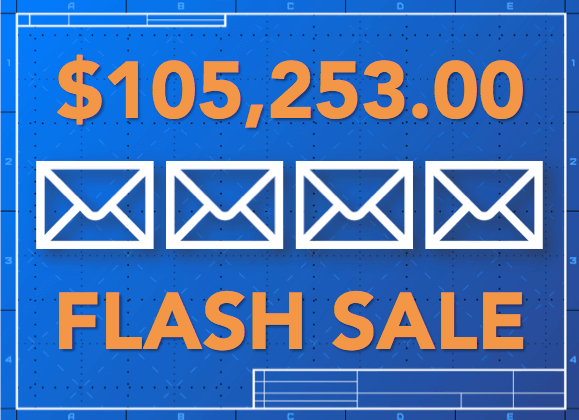 You know why I love the campaign I'm about to walk you through?
It required NO new products.
It required NO new collateral (besides 4 emails).
It required NO discounts (in fact, we actually raised prices).
And it created a six-figure return from a list of cold subscribers in just 72 hours!
Big Initiatives Are Great, But Sometimes You Just Want Money In The Bank "Yesterday"
I wanted to create an immediate surge in sales for an online financial modelling training provider, Breaking Into Wall Street, while we completed some large initiatives elsewhere on their website.
They've got a nice size list, they nurture their subscribers with great content and their courses are second-to-none, so an email flash sale campaign was a no-brainer. We just had to find the right offer.
Here's where things started to get tricky…
We Had Nothing New To Offer To The List 🙁
Their courses contain hundreds of hours of video footage, and they have a hard-line stance never to discount their products, which meant launching a new course or discounting an old one was completely out of the question.
Looking back, this was actually a blessing in disguise.
If we had a new product to release, we most likely would have put together a full-blown 21-part product launch. (Remember the whole point of this campaign was to produce an immediate result to augment other long-term initiatives.)
Instead, we had to get creative.
If you find yourself in our situation, here are some lightweight offers to consider:
Bundle two or more products together
Offer a $1 trial and auto-bill after 30 days
Package in a freebie
Add in a premium (e.g. fast-track delivery, coaching or done-for-you implementation)
Create new payment plans for big-ticket items
Offer a special rate for volume purchases
Offer a special rate for subscription purchases
Offer a discount (effective, but not always an option)
We wanted to net the biggest result possible, so we decided to focus on their big-ticket product BIWS Platinum (a $1,197 combo package that contains all their other courses). We made it available on a never-before-offered 24-month payment plan with monthly instalments of $65.
Would The Offer Get The Result We Needed?
We actually had some internal debates around whether the offer was attractive enough to hold its own. After all:
We were already offering BIWS Platinum on a 12-month payment plan, would adding a longer option really make that much difference?
We were selling this package to aspiring investment bankers! Surely they would quickly do the math and realise they would save $363 by purchasing it outright?
Our thinking was to give subscribers a chance to access their biggest and best offering at the lowest up-front price possible… And at $65, the first instalment would be cheaper than any other product on the site.
In An Unconventional Twist, We Decided To Target The Least Engaged Prospects On The List
Since we were selling a combo package that contained ALL the client's courses, we decided it was easiest to exclude anyone who had previously purchased a course…
(Long story short, it's a major headache for the client to reconcile BIWS Platinum purchases for existing customers because they provide discounts based on previous purchases.)
We also decided to exclude anyone in the early stages of the client's email opt-in sequence…
Here Are The 4 Emails In The Campaign
With our offer and our audience sorted, we were ready to get to work on the campaign. And they don't come much more lightweight than this.
Here's the formula we used…
Email #1: Introduce the offer
Email #2: Reiterate the offer
Email #3: Focus on scarcity
Email #4: Reiterate scarcity
(I've included annotated screenshots of each of these below.)
No new sales letters. No new launch content. Just four basic flash sale emails.
We didn't even have to create a new order form for the product … we simply added an expiring option to the existing order form to show/hide the 24-month payment plan option for the appropriate sales dates.
The Infusionsoft Campaign Setup
Here's what the campaign looked like in Infusionsoft:


It's a simple set-and-forget four-part sequence triggered when a particular tag is applied to the list of contacts. If a contact purchases the offer, the campaign immediately finishes – otherwise the campaign runs until complete.
Message #1 – 9AM Day #1: Announcing the Flash Sale
Message #2 – 9AM Day #2: Flash Sale Reminder
Message #3 – 9AM Day #3: Focus On Scarcity
Message #4 – 6PM Day #3: Reiterate Scarcity
Once the tag was applied, all we had to do is wait … the rest would be handled by timers and expiring order form offers.

The Exact Email Templates We Used
We stuck to first principles and made sure that we were including the right elements in the right place at the right time.
Compelling offer
Genuine scarcity
A clear "reason why"
Attractive benefits
Call to action
I've included a screenshot of each of the four messages with my notes inline below so you can see what I mean…
Message #1
Subject: [Black Friday Sale] Access BIWS Platinum for $62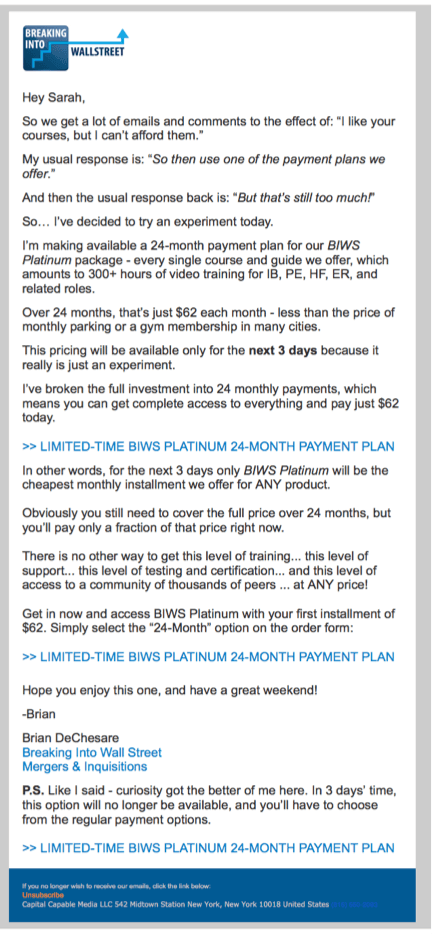 Message #2
Subject: [CLOSING SOON] Access all BIWS courses for just $62?

Message #3
Subject: $62 for BIWS Platinum… Gone Tonight?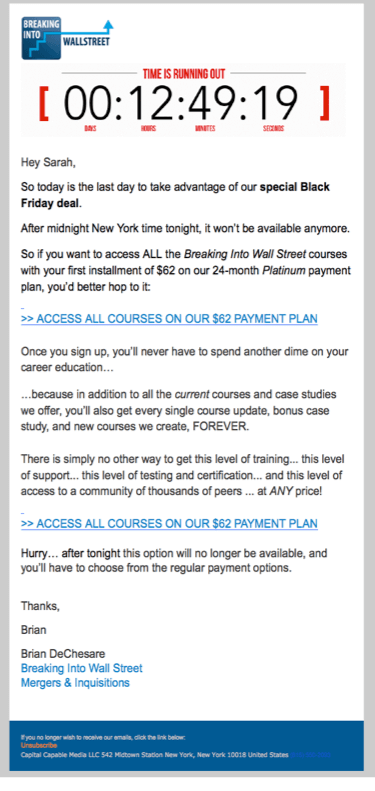 Message #4
Subject: Closing at Midnight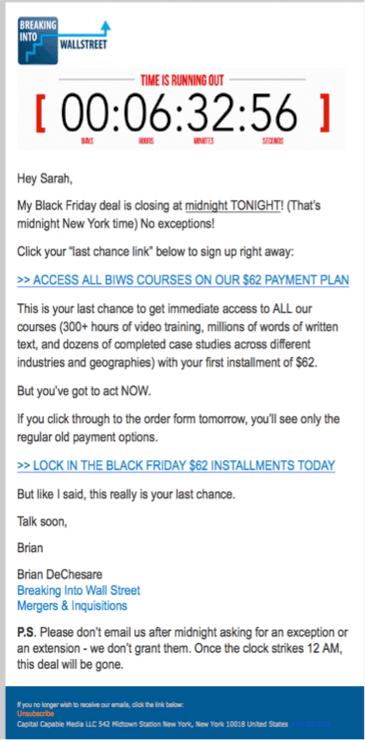 Also, just in case you were wondering, here's what subscribers saw once the sale was complete: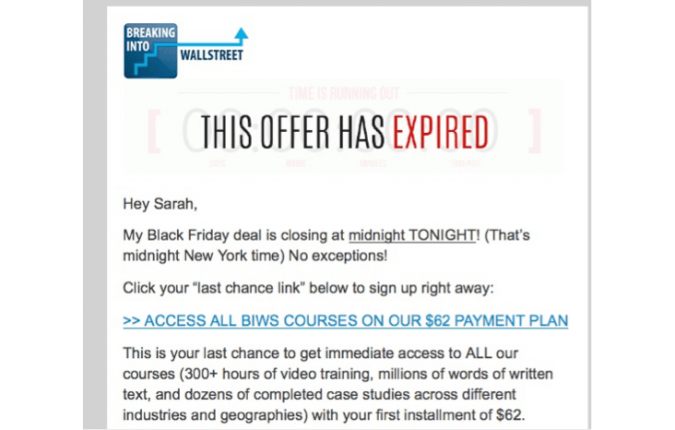 The Result$
Early on Day #2 it became clear that we were going to surpass our original target of $30K in sales…
By the time the cart closed at midnight on Day #3, the total for the 72 hour sale had reached $105,253.
And to our further surprise, sales for BIWS Platinum continued to pour in at an unusually high volume for at least another 24 hours following the sale.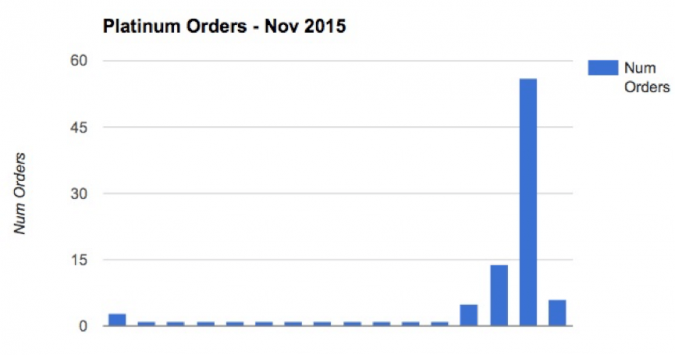 This contributed to the single biggest week in history for Breaking Into Wall Street (rivalling even much more comprehensive product launches!).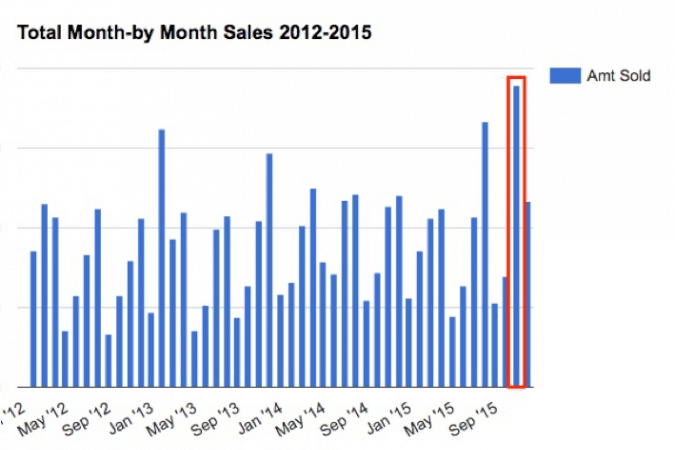 What was more astounding was WHO purchased…
Analysis revealed that this sale succeeded in "activating" non-buyers who had been laying dormant on the list for extended periods of time.
For example:
5 had been on the list for 1,000 days but never purchased a single product…
4 had been on the list for 700 days but never purchased a single product…
8 had been on the list for 300 days but never purchased a single product…
5 had been on the list for 100 days but never purchased a single product…
And many more had gone weeks, or even months, without spending a single dollar.
…Yet they found this offer so compelling that their first purchase was in fact for Breaking Into Wall Street's most expensive product.
Why Did It Work So Well & How Can You Do The Same?
Effective flash sales are built on excitement and scarcity.
It's all about changing the sales conversation and offering something new (rather than the same old thing your prospects have already said 'no' to a hundred times before).
As you see here, the "tweak" doesn't have to be huge, but it has to be different.
People hate missing out. And the combination of a compelling offer with a timer counting down to expiry is a seriously effective way to get people to take action.
Best of all, you don't need to be the world's best copywriter, you just need to know which strings to pull.
Key Takeaways
Think 80/20 – not every profitable campaign needs to involve back-breaking effort
Get creative with your offers (think payment plans, bundles, trials, etc.)
Don't re-invent the wheel – just follow the formula