We use digital tools to help our local, national and international clients
thrive and grow.

We're always on the lookout for

digital marketers

,

digital project managers

or

client managers

to join our

inner circle.

For information on positions that we are CURRENTLY hiring for, check out our page on SEEK.com.au and submit your application via SEEK.

You're a digital marketer. You convince and convert. You drive more clicks at less cost. You help real businesses achieve real goals. You flood your clients' online sales funnels with hot, responsive, qualified leads. You kick goals, even when the goal posts are moving. Your clients love you. You embody the digital lifestyle (beer anyone?). You're always improving, always learning. You share blistering high-fives with your colleagues and clients.


You work at Marketing Results.
What's it like to work at

Marketing Results?

We work with growing companies to expand online leads and sales using an integrated approach to website optimisation that integrates traffic generation, website conversion and lead nurturing.

Our vision is bigger than SEO. Bigger than SEM. Mightier than CRO or PPC. We're changing the world, one digital sales lead at a time.

Our working environment is collaborative, responsive and light-hearted, yet we deliver proven, industry-leading results for our clients. We pride ourselves on our cloud-based client management systems and processes. We believe in working smarter, not harder. We use online project management technology and systems to plan, coordinate, deliver and track high performing digital deliverables for our clients. If there's a digital tool available, we use it… to increase client results, improve productivity or spam each other with cat videos.

Our team enjoys great 'lifestyle' benefits: free on-site car parking, casual dress, flexible working hours and a location close to the gym, cafes, restaurants and bars. And there's rarely a shortage of LOLs in the office.
What are the benefits of working at

Marketing Results?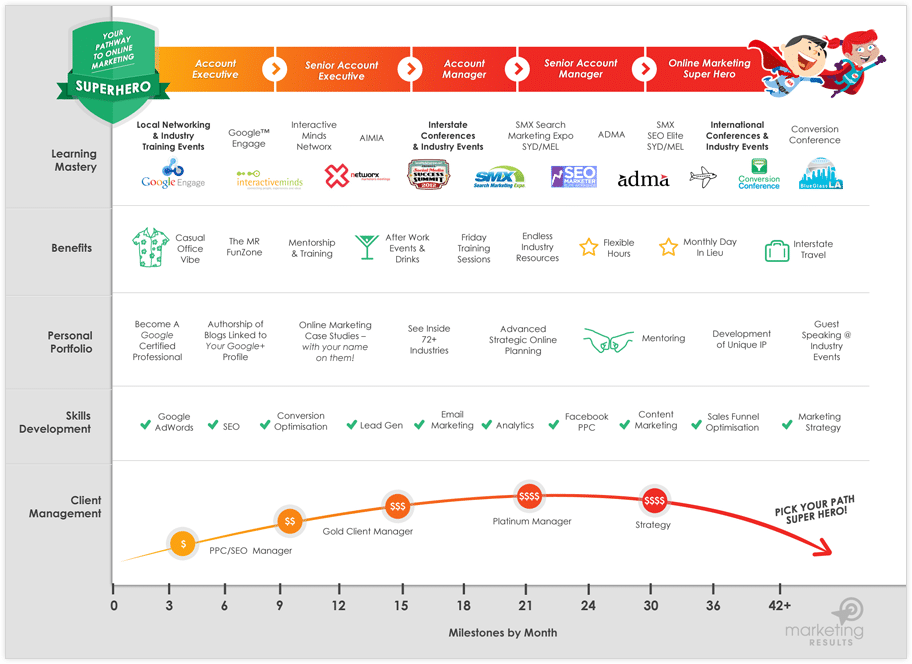 Who are we?
Our team is composed of high-calibre account managers, account executives, production coordinators and subject matter experts in the following fields: Google AdWords, Facebook PPC, direct response copywriting, conversion rate optimisation, project management, website design and development. Each and every one of us is a passionate digital strategist.
Top 10

reasons to join Marketing Results
Results-driven environment: above-market remuneration and benefits for high achievers
Extensive training, mentoring and career development: advance your career in a rapidly evolving field
Opportunity to attend training courses and events, including national and international seminars
Support creating your "personal brand" via your own case studies, blog posts and speaking gigs.
Ownership of your role and genuine input into the direction of the business
Central Brisbane location, close to public transport and parking
Casual work attire and flexible start times
Regular team events (e.g. bowling, go karting, golf, personal development seminars)
Friendly, supportive team – no office politics!
Stable, growing company with advancement opportunities
---