If you've done a bit of Conversion Rate Optimisation (CRO), you may have encountered the situation where one test beats the control by 50% or even 100% (or more)… and yet your overall sales barely change over time.
There are a number of reasons why this happens – one possibility is the page you tested never really mattered in the first place.
For example, if Landing Page A is responsible for 5% of your leads, and you increase conversion by 50% on that page, your overall lead volume will only rise by 2.5% (with all the usual statistical caveats).
That's not bad… but it's not going to shoot the lights out either.
So you need to test what matters
An important principle of practical Conversion Rate Optimisation is to test what matters.
Test something where, if you win, as much of your business as possible will reap the benefits.
7 types of pages that matter
Test your home page
Test your most important landing pages
Test a landing page template that can be rolled out across all landing pages
Test key junction pages – e.g. service directories or course directories that lead to a multitude of conversion pages
Test shopping carts and checkout processes
Test major offer pages (e.g. Special Report opt in pages, Free Consultation pages etc.)
Use Google Analytics to identify any other pages with the highest contribution to conversion activity
A junction page split test that lifted revenue by 17.5%
Here's a split test that came off well for a client that resulted in a 17.5% revenue boost to the business.
This test also has some broadly applicable lessons, even if your business or industry is different
What we tested
The test was for Kids First Aid, a first aid training company with a national presence.
The test was to compare test two "Course Directory" pages with an A/B split test:
THE CONTROL: A "long format" directory page where the user can see ALL available courses (and by clicking on the relevant State on the map will drop down to the appropriate section of the page).
THE VARIATION: A "condensed form" directory page that forces the user to click through to individual State pages, before viewing course dates and venues in that state and booking from there.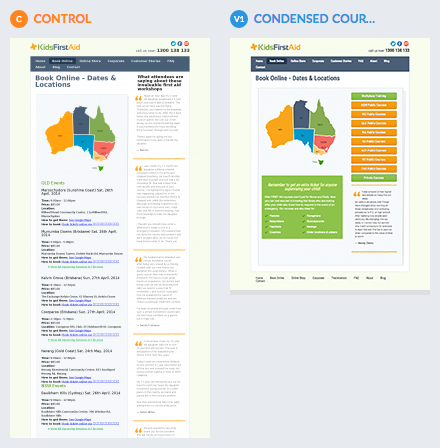 The significance of this test is that all customers had to pass through this page on their way to booking training tickets…
…meaning that a successful test here would impact the entire business.
The result: the new Variation delivers a 17.5% revenue bump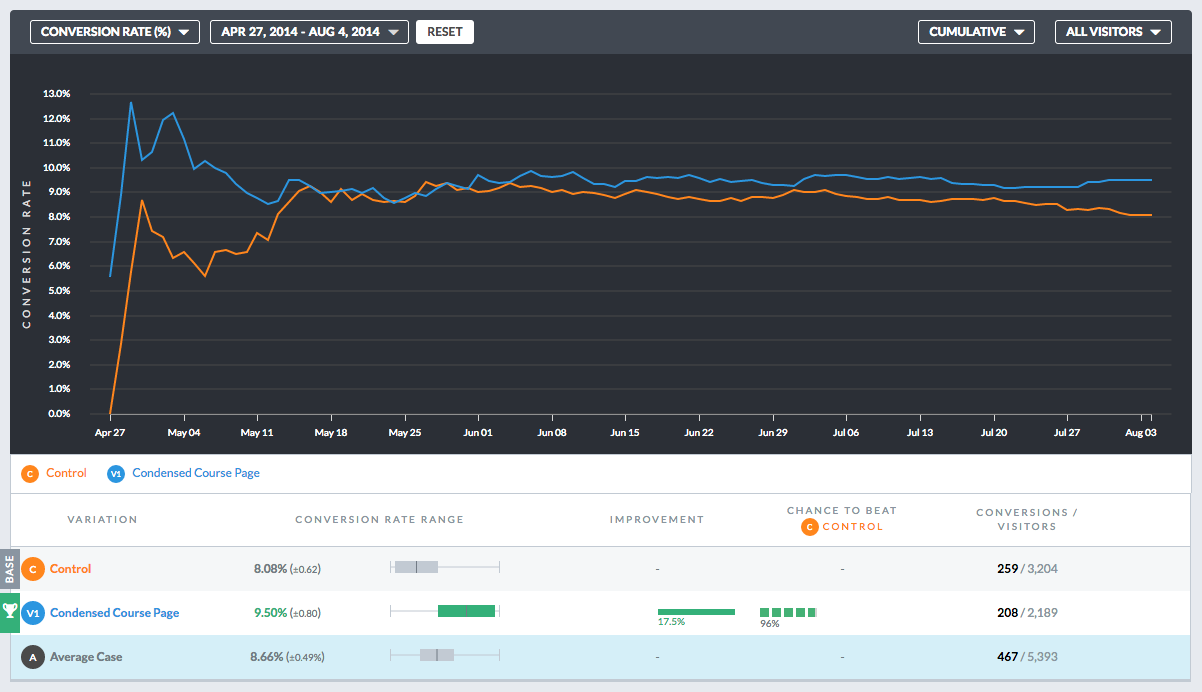 The Variation – the condensed version – delivered a 17.5% revenue bump across the board at the 96% confidence level.
Why? Probably because the condensed version was more efficient at delivering the prospect to the most relevant page as quickly as possible.
The same principle applies to your home page, for example – the quicker you can get visitors off your home page, and on to the most relevant page for them, the higher your chances of converting.
Layering conversion strategies to drive ongoing improvement
As I mentioned above, the problem with Conversion Rate Optimisation is that the results tend to hit diminishing returns, unless you keep changing up the levers you're trying to optimise.
This marketing case study shares some of the ways Kids First Aid doubled revenue in 6 months, and has since gone on to expand further by:
Increasing overall website conversion rate
Increasing average transaction size by 29%
Adding complementary products to further increase Average Visitor Value and Customer Lifetime Value
Expanding traffic sources and geographical reach
Driving more referrals and repeat attendances via more sophisticated lead nurturing activity.
What marketing tests have you tried that created a big impact for your business? Leave a comment below and let me know…