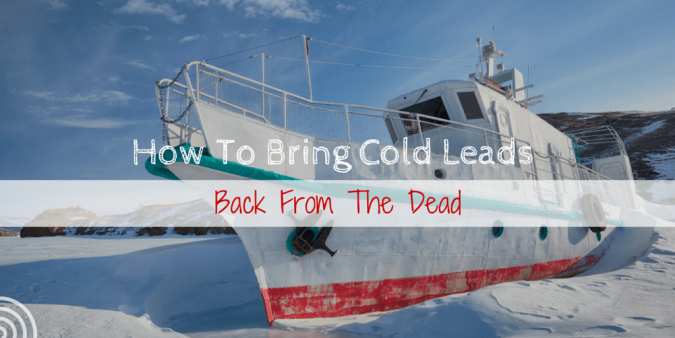 You've had an effective lead nurturing sequence in place for a while now.
It's converting a decent number of leads into paid sales and turning a profit.
But what about all those other people? You know the ones – they opted in and then you never heard from them again.
If you check to see how many people have ended up on this list, it's often a much larger number than you want (or expect) to see.
What's going on!? How did this happen? Why don't they like me?
Before you jump to conclusions, there are several reasons a lead can go cold. It may not be about you.
For example, there's spam folders and blasé leads (aka, normal people who are subscribed to thousands of lists). Plus, inboxes are getting more sophisticated, you don't have to see emails unless you want to anymore. You don't even have to get notifications from emails that aren't real people.
I have an inbox for promotional emails (I long ago subscribed to), that set itself up automatically – I didn't even do it. I open this once or twice a week, scroll down, open maybe three and then go back to my real inbox with emails from real people.
I honestly feel guilty about some of the companies in that promo box – I'm a happy, loyal customer to so many of them. If they were in my real inbox, I'd be more likely to read them. But they're not so I won't, and I very rarely click that little star that moves them over. It's just the way it is.
So how are you going to get out of that promo box or avoid it all together?
You're in too deep
I recently learned about a large company that sends out 3 emails per week to their unsegmented list. For years, it's 3 emails and a set formula – one promo, one content, one feature product/service. That's just the way it is.
And it worked for a very long time…
But now they have less than a 5% open rate, less than 1% click through and a hard bounce rate that is through the roof.
If this sounds anything like you, it probably feels like you're in too deep.
How did this happen? And how will you get back on track?
Start from the beginning
Where did your leads come from? How did they find you? How did you get that all important email address?
Digging in a little deeper to your existing campaigns can help you establish if you need to revive the cold leads or if they were dead from the beginning.
Take a look at your traffic to find out where the majority of your leads are coming from. Is it the type of traffic you WANT, or is it just a whole bunch of random clicks clogging up your time and resources?
For example, if it's traffic from your AdWords campaigns, you can see the exact search terms that lead them to you.
Let's say that you run a Financial Services company that helps businesses get loans specifically for large industrial equipment – the big stuff. Have a look at your search terms.
What if your search terms looked like this?
Loan for espresso machine
Small business loan
Home building loan
If these terms, or similar, are getting lots of traction and you've got clicks and opt ins for your lead magnet, these leads are automatically disqualified because they aren't the type of customers you serve. It's simply a waste of your money and resources.
But maybe you ARE getting quality traffic, and that's not the reason your leads have gone cold.
What next then…
How about your email sequence?
If you feel like you are getting quality traffic but not converting that into sales, maybe it's time to look into the sequence you've got set up.
Perhaps you're sending your report in the first email, and from there you're sending through why your company is different (and, let's face it, better), where you can offer value, how you can solve their problem and ultimately make lives easier and more prosperous.
A bit like this 8-step client getting email sequence;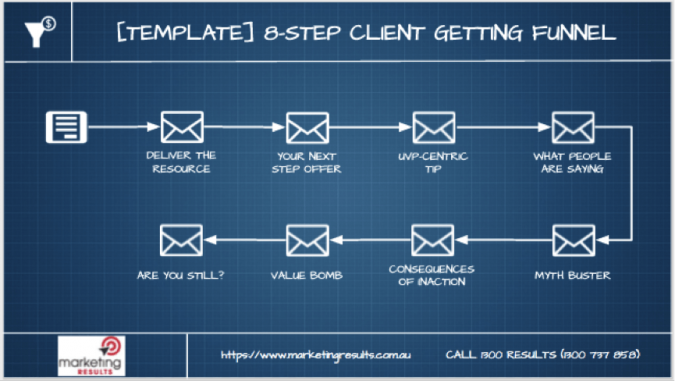 Even if you have a killer sequence setup, how effective are your subject lines?
Subject lines are the key to getting an open – it's the trailer for the new Star Wars movie. It's the anticipation, the desire and desperation to get inside and see if you were right or wrong about this company that sent you a pretty interesting guide about financial lending. (They probably didn't read it but they thought "boy that's something I should read!" and you got their email anyway).
Early on in your sequence your opens and click throughs are most likely at their best. But as prospects get to the end of the campaign, the clicks drop off and before you know it… the sequence is over and all you've got left is a list of email addresses that haven't taken any significant action, if any at all.
What you can do to turn cold leads into warm prospects again
If you have been segmenting your list from the start – you can discover some insights into which segments are warmer than others and find the weaker points in your sequence for these people.
To find the point where your segments are dropping off, a few things you can do are…
Strengthen your initial lead nurturing sequence at the sticking points
Develop a separate sequence for that segment
Build an offshoot from just before the drop off for that specific segment
Any of these things can help you steer those cooling leads back around – and with segments you can personalise your message and hit their pain points better.
Ramp up the amount of emails you're sending out after your nurturing sequence has ended – and make them an offer – drip campaigns is perfect for these prospects.
To be honest, getting these leads back on board can be tricky – and building another sequence with another offer can be a lot of work – so make sure you think these prospects are really worth it before you spend the time and effort.
It's not them, it's you (you forgot to segment)
Is your list hygienic and properly segmented? If it's not there is likely a lot of untapped value left on the table.
Prospects hidden in an unsegmented list are your hidden gems. They're the first date that went to the wrong Sizzler and were too embarrassed to tell you and you never spoke again. You'd be married and living in Paris together by now if you just sent them a text to ask what happened.
So let's get that proposal back.
Send out an email to your unsegmented list telling them the key areas you can help them with and ask them to click through to what they need to find out more – and tag them!
For this email – build (or use existing) landing pages that solve their specific problem and offer an incentive – a free quote, free trial or something else they haven't yet opted in for. Get that second chance (and make it count).
This is a simple way to segment these leads. BUT the only way for this to work is to make sure they open your email in the first place.
You need to have the most amazing subject line you've ever thought of (if you've drafted less than 300 you haven't tried hard enough. Have a look at Copyblogger's article about subject lines). Remember, your emails are probably going straight to spam or promo folders that rarely get checked, and are overwhelming when they are – so you need to make these 5 – 10 words count.
From here, if they've opted in again or clicked, get them into another sequence providing valuable and desirable content, drip campaigns and other specific offers. You want them excited to get your email.
BONUS TIP – They're just not that into you
These prospects are your unresponsive leads who never open or click like they used to – they're a kid going for their swimming lessons and somewhere along the way started hating water.
What did you do to make them hate the water?
Before you funnel any leads into a new sequence, send them a one off email asking them directly if they're still interested. Show them your best offers, and also show them the door so they have a choice.
Unsubscribes from emails like this are a good thing – it will clean your list and increase your conversion percentage.
Here's an example from Fab;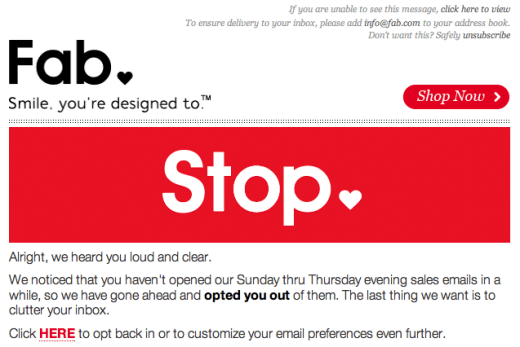 (Source: The Next Web)
What does your campaign look like now?
These steps can take a little time and effort to put together – but once you've been through this process once, it's unlikely you'll need to do it again. Remember that there is always a constant and never ending capacity to grow and improve your campaigns.
The marketing world can be fickle and changes happen overnight that can send you backwards.
Keep an eye on things, keep testing and keep your list hygienic!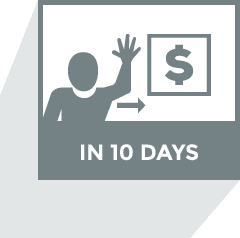 FREE Special Report:
"10 Steps To Reducing Your Sales Cycle From 10 Weeks To 10 Days"
INSTANT ACCESS