Have you noticed how everyone is jumping on the 'content marketing' bandwagon?
It's a buzzword that has been created by marketers – for marketers.
But that's not you.
You care about profit and sales. You care about getting more pre-qualified leads delivered to your doorstep without the grunt work of directly chasing them.
You care about growing your business, not writing a blog post.
But there is actually some substance to this content marketing stuff – it just takes some digging to find it.
Instead of disregarding content marketing, try and think of it as another opportunity to drip feed leads into your sales funnel by answering your customers questions. Because that is the real reason we do it.
It is a formulaic and predictable approach to organising knowledge that gets results for your business.
If you want to take content marketing seriously, it needs to be deliberately aligned with every stage of your customer's journey through the sales funnel. It needs to answer their burning questions – the questions that usually prevent them from making a purchase.
Today I want to help you figure that all out and leave with a list of content ideas that mirror your sales funnel.
Are you ready?
The Buying Cycle and Sales Funnels
The basic breakdown of a sales cycle is thinking about your customer journey – from "never having heard of you before", to "becoming an actual customer" – preferably a repeat customer.
You can delve deeper and add more iterations, such as; turning customers into brand ambassadors – but for now I want to talk about the three core stages:
(If you're serious about your funnels and scaling your business, you will want to automate most of this activity)
Awareness Stage (information-qualified leads)
Top of Funnel (TOFO)
This is the part where they've never heard of you before.
Through your marketing efforts potential customers are just discovering who you are – through blog posts, social media, PR buzz or search engines.
The 'Top of the Funnel' content is all about creating awareness. It's about answering questions like…
Who are you? What do you do? Why should I care? How can we keep this relationship going?
Consideration Stage (marketing-qualified leads)
Middle of Funnel (MOFO)
Now your prospects are technically 'in the sales funnel'. They know who you are, what you do and why they should care.
Now it's time to take them on a journey and answer some more specific questions which will lead them into the purchase decision stage. You are further educating them about what you do and how it has worked in the past.
Things like case studies, testimonials, explainer videos and in depth resources – anything that will help them overcome any fears they have about the value you will be able to contribute to their life.
Decision Stage (sales qualified leads)
Bottom of Funnel (BOFO)
At this stage you want to create content that helps them lean towards your offering compared to others. The goal is to accelerate the sales cycle and inspire confidence in a purchase decision.
Interactive calls, product trials, purchase guarantees and time bound offers are the things at your disposal at this stage. They have essentially already decided to make a purchase, you are just pushing them over the line.
FREE Video Series
"The Sales Lead Machine Blueprint"
Specifically for marketers of complex services and major products
FREE VIDEO SERIES
Know your audience
So we know how to categorise our audience based on where they're at in the funnel – but who exactly are they? And how do you talk to them?
A successful and proven approach to locking this down, is by developing persona's.
Depending on your business and industry, you're probably going to have a variety of customers or clients. There's a bit of work to be done here to tighten up your understanding of exactly who these people are, and how you can get the right content in front of them at the right time.
For the purpose of this article, I'm going to go ahead and assume you've already completed the process of developing your persona's – there's a great resource here that can help you complete this exercise if not:
Tailor your content
Now we're getting into the fun stuff!
You know who you want to talk to and understand that, depending on where they are in the buying cycle, they're going to need different things from you.
So let's figure out exactly what those things are.
Creating Your Content Matrix
"My name's Lauren and I'm a spreadsheet-aholic"
There, I said it.
Not the 'coolest' thing about me, but it makes this part of the task particularly fun.
I want you to set yourself up with a blank spreadsheet (I like Google Sheets but whatever floats your boat) and put the following into cells in the same column:
TOFO
MOFO
BOFO
evergreen
evergreen
evergreen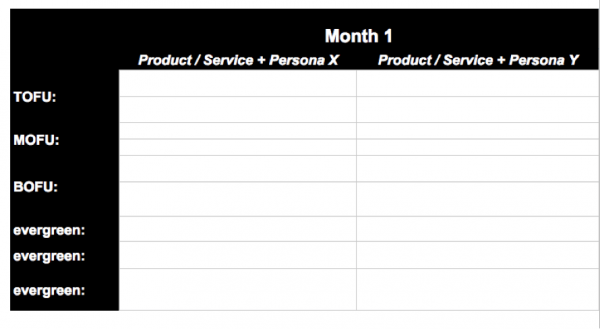 In the rows across the top, put as many combinations of a 'product or service + customer persona' as you can think of.
Now your Matrix is taking shape – by the end of this exercise you should have a table with at least one empty cell to represent each possible combination of your customers, plus the product or service you want to sell them, plus the particular stage of the buying cycle that they're at.
Now, start from the first empty cell and consider the answers to the following questions for the particular combination represented:
What type of information do people need during this phase?
What are their concerns or other barriers?
How can we increase their interest in our product/service at this point?
Do leads make a smooth transition from this stage to the next, or do they get stuck? If so, why? If not, what helps them move along?
What are the questions we typically hear from customers later in the funnel that we can answer now?
Do we have any existing content that addresses these needs, concerns and barriers?
If not, who are the people within the organisation that are best suited to address this topic?
Write down all the answers or thoughts that come into your head for that particular combination of product, persona and stage – this is your kick off point for possible content ideas.
It will need refining, researching and prioritising, but you get the idea.
Keep going! Work your way through each combo till your fingers hurt from scribbling down ideas.
You may like to use your analytics data at this stage (which you absolutely SHOULD be tracking already!) to refine these ideas based on what your audience not only want, but are already engaging with.
This is a great way to prioritise the delivery of all the fabulous content you are about to create. Plus it will help you decide what content to re-share based on what Google ranks you for, and your customers are clicking on.
This is the quickest (and sometimes most accurate) way to determine your priority content topics.
By now, you should have come up with a whole bunch of great ideas, and used real data about your customers, web traffic and search volume to whittle them down to one or two stellar ideas for each cell in your matrix.
If there are any extra standouts that you think are valuable – chuck these in the 'evergreen' cells so you know you have a stockpile of valuable content pieces to keep the flow and stop your blog from ebbing.
Plan and Execute
I like to work in timeframes. As an agency that relies on delivering results in a measurable and accountable way, this works for us.
This means we organise these content ideas into a calendar. Like comedy, blogging is all about….. timing.
It's easy to put blogging to one side and focus on the more urgent stuff – but it's because you're not tracking results well enough.
If you get scientific about it and trace content creation back to genuine sales leads, content marketing becomes much more achievable – and way more interesting.
FREE Video Series
"The Sales Lead Machine Blueprint"
Specifically for marketers of complex services and major products
FREE VIDEO SERIES