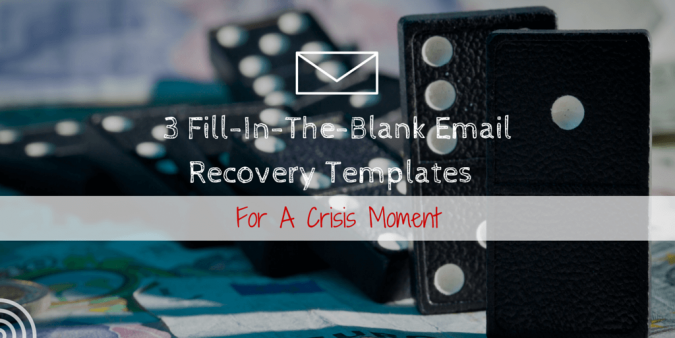 If you send a lot of email in your day-to-day business, then it's almost inevitable that someday an email will go out that's different than you intended it to be.
It could be a tiny mistake. Or it could be a behemoth how-the-heck-did-you-miss-that issue.
Regardless, it doesn't have to be the end of the world. But you do need a process for quickly and reliably turning around the situation, saving face, and using it as an opportunity.
In this post I'm going to share with you three fill-in-the-blank templates that you can use to save your butt when something goes wrong.
This is a rare occasion where I will preface this resource by saying, I honestly hope you never have to use these… but if you do need to bust them out, you'll be glad you have them.
Why Email Mistakes Happen
Before we get into the 'remedy', first let's look at some of the reasons why mistakes happen in emails in the first place.
My experience is that many people don't treat email with the same reverence that they do any other marketing campaign.
When you design a billboard you labour over the fine details for weeks on end…
When you buy ad space in a newspaper, you obsess over the slightest details to get the typesetting just right…
You get the picture.
That same attention to detail and awareness of costs (actual costs and opportunity costs) can be easily overlooked for email. And that's precisely where problems arise.
It's so easy to log into your email marketing platform, whack together something in the WYSIWYG composer, and then get it out to your list.
Ba-da-bing ba-da-boom.
The problem with that is that your list is arguably one of the most valuable assets in your business. And the people on your list represent some of your best opportunities.
The temptation to take shortcuts when communicating with those people can cost you a lot more than the few cents-per-email charged by your email platform.
Screwing up email is never a good thing – here's why:
It makes you look horribly unprofessional.
It wastes your prospects' time and that in turn destroys goodwill and trust.
It lowers your conversion rate, because anything that brings your perceived quality or value into disrepute is going to have a pretty sizable impact on your sales. People all of a sudden are going to start asking questions that they otherwise wouldn't have.
If it's a broken link or something it means that your marketing really has no chance of being effective because if they can't get to the sales page or get to the resource that you're promoting then your marketing is dead in the water.
Nonetheless, mistakes happen. I get it. A LOT of stuff can go wrong…
The wrong people can receive emails
Images might not load
Timers can get set to the wrong time
Old subject lines are overlooked
Links point to the wrong page (or nowhere at all)
Typos pop up
Loopholes in offers are overlooked
Merge fields can break
Making email mistakes can happen to the best of us.
Just the other day I received an email from a respected organisation in the marketing sector with a broken merge field in the salutation!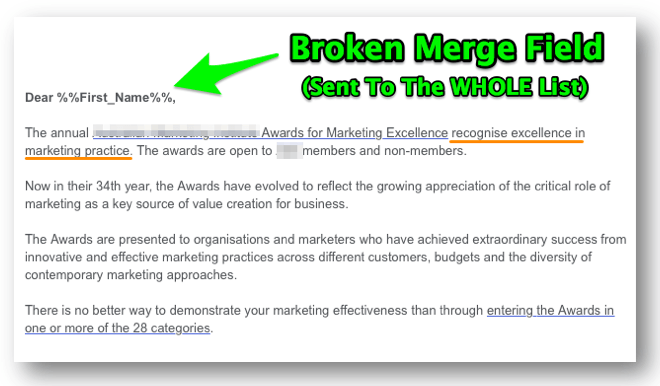 How to Make Your Emails Error-Free
So the first thing I want to do, is share with you a number of really simple ways to make sure your emails error-free before you hit send.
(Note: If you've landed on this article because you just messed up an email campaign real bad, click HERE to jump straight to the Email Error Fix Template– you'll probably want to come back and read my tips for testing before next time though, huh?)
#1: Use a simple and proven template
Your emails don't need to be visual works of art. The more graphics and fancy widgets you include, the more likely it is that something will break for your customers and prospects.
Use a template that you have tested extensively and stick to it! That way, you can add in the copy, links and offer for your message WITHOUT starting from the ground up every time. This will dramatically reduce the number of variables you need to check when testing your emails.
Here is where the templates are in Infusionsoft;

#2: Two-step testing
Most email marketing platforms give you the option to send yourself a test prior to launching your broadcast. That's really helpful and I thoroughly recommend doing so, up until the point where you're satisfied it's good to go.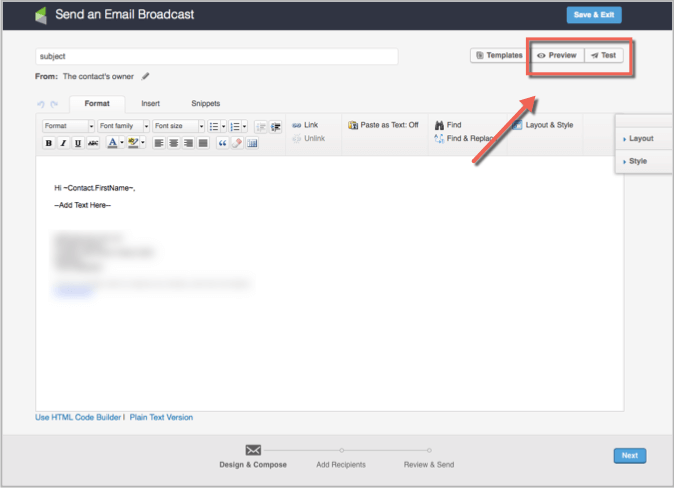 As an extra precaution, it can also be really useful to separate your email address out as a one-person list and actually send the email to yourself.
This can help you pick up errors that you otherwise wouldn't have noticed through regular test sends (especially for things like merge fields).
#3: Cross-browser/device testing
Using cross-browser compatibility checking for different email providers is a good way to quickly and easily see how your email is appearing on different browsers and email clients.
Many email platforms have this functionality built in. It might take you an extra 5 minutes or so to run through the test, but it can save you a LOT of grief.
Here is where the email provider test is in ActiveCampaign;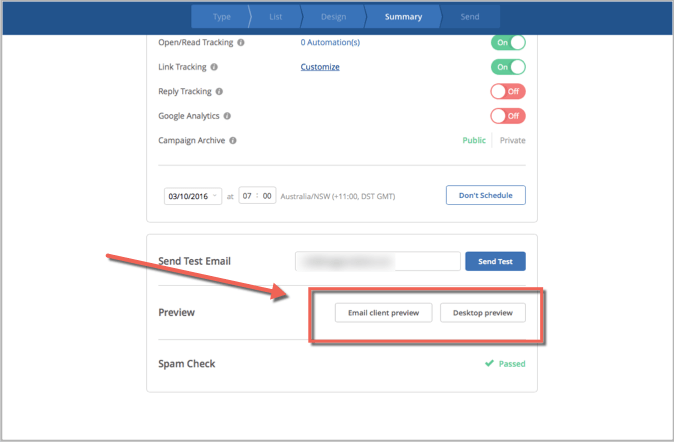 #4: Text-to-speech sense-checking
I HIGHLY recommend using a text-to-speech tool like Natural Reader that will dictate your email copy back to you aloud.
This is my secret weapon. I do this religiously. And I almost always find things that I otherwise wouldn't have (so I can jump on them before it's too late).
What usually happens is you get so attached to the email copy that it's very hard to pick up small text errors. Stuff like wrong word usage, repeated words, incorrect contractions, etc. happen all the time.
#5: Be disciplined with your revisions
I cannot stress this enough… Always test your email after ANY change – no matter how small. That means proof-reading the entire email from start to finish again and clicking every link – you'd be amazed what kind of problems can pop-up in between a small tweak and you hitting the 'save' button.
Infusionsoft gives you multiple opportunities to test your emails before hitting send;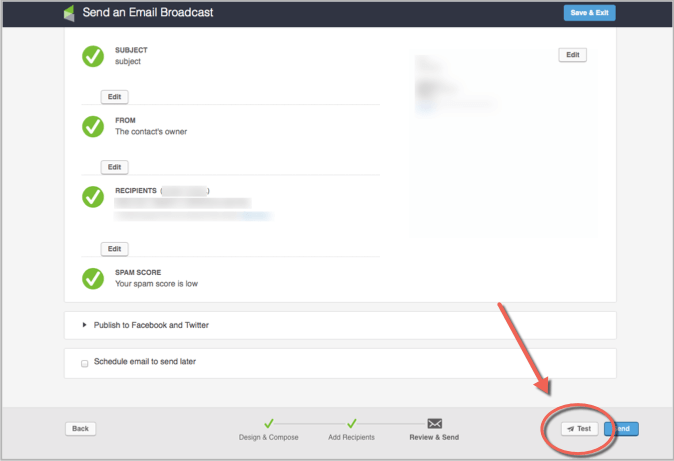 What To Do When You Make an Email Mistake
Okay, so you've been through that process and you finally click 'Send'.
Brilliant.
Moments later, you receive your first reponse… from an angry/confused/upset contact reporting an error in the email (you know, the one you just sent to thousands of people?!).
What can you do about it?
Is it too late?
Do you just need to dig your head into the sand and wait until the email has frustrated enough people and prospective customers stop emailing you?
Or perhaps you might think to send out a retraction email saying, "Please ignore that last email".
It's a cruddy feeling, but I'm going to show you how to turn things around. And believe it or not, you can even make this situation work in your favour.
Okay, here's what I suggest…
First, get composed. Keep cool. It ain't the end of the world.
Decide your angle. What are you going to tell your contacts? And how can you come out of this situation looking good.
Come up with a solid 'reason why' the error occurred. This is NOT an excuse – it's a simple, relatable explanation that makes you seem more human – and humans like doing business with humans.
A good 'reason why' can actually double up as social proof. For example, you might say:
"The response from my last email was so overwhelming that some people reported they were unable to access the collateral. We've now upgraded some things at our end to ensure that doesn't happen again. And if you were in that boat, please CLICK HERE to try again. Sorry for the inconvenience and thanks once again for the huge response, we really appreciate it"
Don't try to hide your stuff up. We all love a good dose of drama. So what's the first thing your contacts do if you tell them to ignore your last email? They read it to find out just how bad you stuffed up.
Correct the problem. You would hope that this part is obvious, but just in case it isn't, for God's sake, correct the error BEFORE you send out another email.
Use the mistake as an excuse to have another bite of the cherry. Your follow-up email will almost always get a better open-rate than your first if you use a subject line like, "I stuffed up". So take that opportunity to engage your readers and get them to take action!
Here's what the company I mentioned earlier did to recover from their merge field mishap;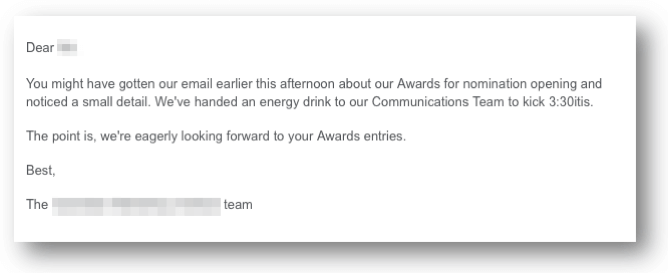 How do you think they handled it?

3 Fill-In-The-Blank Email Recovery Templates For A Crisis Moment
Below you will see a handful of examples of effective templates you can use to recover from an email error.
I've also included source documents for these, so you can download the Word file and edit and use them as necessary.
Download these templates as a Word file.
Email "Error Recovery" Template #1
SUBJECT: RE: [ORIGINAL SUBJECT LINE]
Hi [FIRST NAME],
A little while ago I sent you a link to access my new [COLLATERAL / OFFER].
We had such a huge response that our [EMAIL SYSTEM / CART] had trouble keeping up! As a result, a handful of people reported having difficulty [DESIRED ACTION E.G. SIGNING UP].
We've upgraded things at our end to ensure everything is smooth sailing from here on in.
…And just in case you experienced any issues, you can [DESIRED ACTION] by following this link:
>> Click HERE To [CALL TO ACTION]
Apologies for any inconvenience and thanks again for the overwhelming response!
[EMAIL SIGNATURE]
[PASTE ORIGINAL EMAIL CONTENT]
Download these templates as a Word file.
Email "Error Recovery" Template #2
SUBJECT: I messed up
Hi [FIRST NAME],
The email you just received from me was entitled "[ORIGINAL SUBJECT LINE]".
Sorry for the confusion – [STATE THE ERROR E.G. "as some of you rightly pointed out, the date I mentioned was 359 days ago – doh!"].
[STATE THE CORRECTION E.G. "The correct date for the event is this Friday."]
Many apologies. I promise not to send emails before my morning coffee again.
The good news is that [CONVERT IT INTO A BENEFIT E.G. "you still have a little over 48 hours to get your ticket (but hurry, they're selling fast!)"]
>> [INSERT HYPERLINK/YOUR CALL TO ACTION]
[EMAIL SIGNATURE]
Download these templates as a Word file now.
Email "Error Recovery" Template #3
SUBJECT: whoops! take two.
[FIRST NAME], yesterday I made a mistake.
[WHAT YOU DID E.G. "I sent you a link to my brand new video"]…
…[WHAT WENT WRONG E.G. "But a lot of people told me that the super-fancy high-definition version loaded really slow."]
That's all fixed now.
So whaddaya say [FIRST NAME], can I have a second chance?
>> [INSERT HYPERLINK/CALL TO ACTION] (Fixed)
[REITERATE WHY THEY SHOULD ACT AND THE BENEFITS DESCRIBING WHAT THEY'LL GET]
>> [INSERT HYPERLINK/YOUR CALL TO ACTION]
[EMAIL SIGNATURE]
Download these templates as a Word file now.
Wrap
Obviously it's not ideal to ever encounter an error with your email list. And I hope it goes without saying that you should never try to find an excuse to use these resources…
But if something does happen, you can use these to be on the front foot and turn what is otherwise a bit of a negative situation, into what can be an overwhelmingly positive situation that actually builds rapport with your list.
It can increase your open-rate and click-through rates
It can improve your subscriptions, sign-ups, and purchases
It can save relationships – rather than destroy them
And it reminds your audience that you're human!
If you have any questions, or any stories about when things have not gone exactly to plan and you have recovered, I'd love to know in the comments section below.