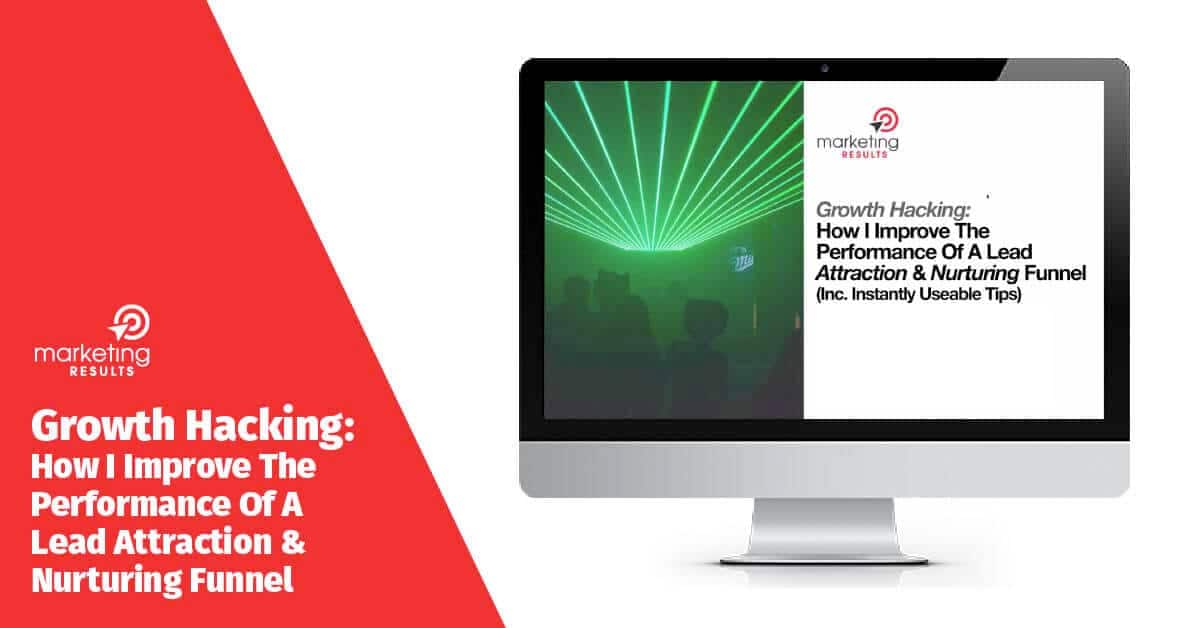 In this video, Digital Strategist Ben Sweetlove explains his process for identifying and improving the effectiveness of a multi-step lead generation funnel. If you're responsible for lead generation in your organisation (or you're the one paying for Facebook or Google Ads), this video is for you.

Video Transcript
Ben: Hi there guys, it's Ben here. Now, in this quick session, I'm going to talk about the growth hacking process or the process I follow when I want to improve the performance of a lead attraction and nurturing funnel. So if you're using Facebook advertising or Google Ads, formerly Google Adwords, to send traffic through to a landing page then this will hopefully provide value to you. So this is the process that I go through with most of our new clients if they are advertising already when they come on board, just to make sure that they're getting the best performance from their advertising budget. I know you're probably busy, so I'll get right into it.
Now, this growth hacking process, really, there's two goals: One is to review and improve the performance of a page traffic campaign, ultimately to improve a campaign's return on adspend. There's two core parts to this process, one is a page traffic source. For example, Google Ads or Facebook ads, but this could also be relevant to Twitter advertising or Instagram or any other LinkedIn Ads, something like that. It's the same theory, and hopefully you'll understand what I mean by that. And then secondly, landing pages or just an action website, where the page traffic is being sent to. So those are two core parts here, and when I use this process, like I said before, when a new client starts or when an existing campaign starts to decline in performance, which does happen from time to time for a number of reasons, so really this is the process that I go through during that troubleshooting or that triage stage.
So let's get in to it. Now, what I've done is I've created bit of a model so I can explain really how this works. The first step is to gather all of your data so you can build them in to a model of how it works, how the campaign is actually working in real life, and there's a couple of things going on here. So we have at the top of the funnel, we have a top funnel of our landing page and let's say that you're getting 3000 visitors with an average prospect click of about $2, which means you're spending 6k, let's say this is a month. Moving down the funnel, the use of account as a subscriber, they then add it to an email list and assuming that you're sending emails regularly to your list and you're nurturing that list, you're going to naturally send users through to your bottom of funnel offer landing page and that's more often than not, that's a free consultation. Let's say that a user requests that free consult and then your sales process kicks in and the user purchases. So this really is a traditional top of funnel to bottom of funnel process, and we have some numbers here.
Like I said before, 3000 visitors, if they are converting at 6% on that landing page then you're going to get 200 subscribers or soft leads. Let's say that 25% of those are nurtured via your e-mail list and then visit your bottom of funnel offer landing page, so you get 50 visitors. Now, let's say that your offer converts at 20%, which means you're going to get 10 consult requests and let's say that your sales process converts at 40%, which means four sales. So automatically by visualising this campaign hierarchy and this ecosystem, we can see in numbers how that funnel is actually working. So 3000 visitors, converting to four sales via the journey that you can see here. So, let's say, as part of our optimisation process, we improve the conversion rate of that top of funnel offer landing page. So let's say that this was 6%, but we can, by doing landing page testing, get it up to 8%. What that means is that we are going to have 240 subscribers now coming from that spend, so if I just scroll back, it was 200. If we do that optimisation and the landing page testing, then we're going to get 240. Now, that's going to have a knock-on effect. Assuming that these conversion rates stay the same, we're now getting 4.8 sales, which is an increase of 20% on the bottom of funnel matrix, which is pretty good, which means our cost per sale if I just jump back to step one, so $1500 per sale to start with. Scrolling down to step 2 just by improving this by 2%, we're dropping our cost per sale down to 12.50. So it's pretty good, bump it. So that's step 1. And really what I'm doing here – and I'll explain this when I get to a later slide – is I'm looking at the lowest-hanging fruit. The smallest change is going to have the biggest change in performance essentially or the highest leverage change. And by starting at the top of the funnel, we can then influence that funnel sequentially or gradually.
Let's move on to step 3 now and let's say that we have another landing page here. This is converting at 20%. Let's say we run a landing page test and we bump it up to 30%. What that means, once again assuming that all matrix remain the same, we can now get 7.2 sales for that spend or a cost per sale of $833.33, which is pretty good. Now, once again, scrolling down, let's say that we reduce our cost per click by 25% so that we do some smart campaign management and we get that now down to $1.50, so if I just scroll back up one, that's just $2 there. If we can get it now down to $1.50, it means that we're going to get 4000 visitors for our spend of 6 grand, which assuming all of these remain the same, we're now going to get 9.6 sales at a cost of $625 per sale. What this ultimately means is that two landing page tests, so this is, a landing page test can take 15 minutes to set up if you use the right tools and you're testing the right stuff. And I'll talk about what to test in a minute. And in smart campaign management say you want to have someone that knows how to optimise Facebook or Adwords or whatever campaign platform you're using to reduce that cost per click is going to increase sale volume by 140% while decreasing 58%, this is the matrix that I got just by conducting those three tests and I mean look the campaign manager is not really testing. Yes, this testing involve, but it's all about how to improve the quality of that traffic, which means 5.6 extra sales for the same investment in traffic, which is also what I like to call a slam dunk.
If you've found this article useful, feel free to follow my approach in your own campaigns.
Or if you want to discuss a more tailored, "done for you" service (where we take care of this for you), then get in touch to talk more about your situation and how we can add value.
GET STARTED NOW BY REQUESTING A FREE GROWTH SESSION