Creating landing pages as part of your digital marketing strategy: Pages specifically designed as the best entry point for a visitor. Pages designed specifically to increase conversion. It's a no brainer "must-do", right?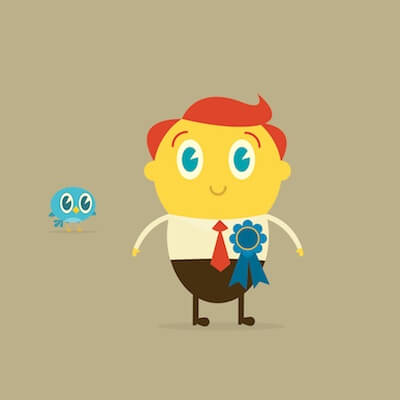 But despite all of that…many businesses don't use them.
"But my website is already great at generating leads and sales…do I really need a landing page?"
YES! You do need a landing page (or a series of landing pages, to be honest).
A well-designed landing page will almost certainly kill your website for conversion…even if you've already invested in optimising your website.
The reason for this? Because a landing page is specifically designed to be as relevant as possible to that audience.
Imagine heading to Google to buy a specific type of women's shoes. You click on an ad promising "Latest Women's Sandals" and land on a homepage with fashion, accessories, homewares, gifts – and then shoes (for both genders!).
Visitors automatically start to disconnect – because the content isn't relevant enough to their needs. It's too much effort. So they leave.
If you don't have effective landing pages, you'll be losing enquiries and sales for this reason all the time.
In these two examples, I'll show you how one landing page increased results by ridiculous amounts – and why you should be using landing pages.
Case Study 1: Bland Website to Landing Page With Amazing Results
Our first example takes us to a highly competitive industry on AdWords – law. Our client had a pretty "dull" (their words!) website that hadn't been updated in some time.
It didn't convert…almost at all. We set up a killer AdWords campaign whilst we built their first landing page – and got 1 enquiry in that time. Conversion rate of 0.71%. Not exactly anything to brag about.
Cue the landing page launch. Enter some pretty killer results…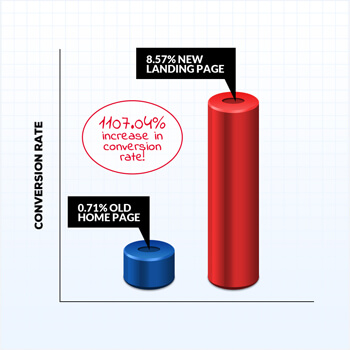 Case Study 2: Conversion-Optimised Site vs. Landing Page
"Well, the original site in that first case study didn't perform too well, so it was obviously going to improve conversion…", I hear you say. But, I promise – the landing page success principle still applies for sites that perform well.
My next case study is for a site that we'd already optimised for conversion over a few months. We'd already run some great split tests that increased conversion by 22%, 210%, and 84% in each respective test.
Our next step was then to create a landing page to test against our current "landing page" for AdWords traffic: the homepage.
Here's what we came up with….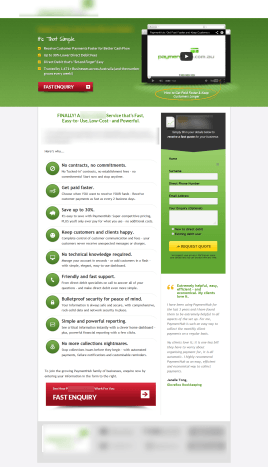 And the results?
The new landing page increased conversion by…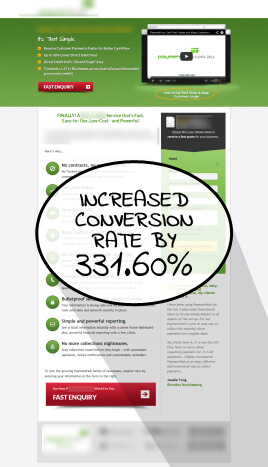 Yep, 331.60%.
Key Takeaways
In summary: Landing pages are definitely worthwhile, even for websites that have already invested in creating a great website… and even for websites that already perform well.
If you're still not convinced, a test will probably convince you. And to help you along… Marketing Results have created a FREE "Ideal Landing Page Template" for you to download.
Of course, no single template is going to be 100% ideal for EVERY application… but it's a pretty good place to start.
The Template is based on 10+ years of split testing and practical results, so you can be confident it works.
Here's where you can download it…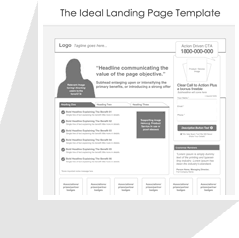 FREE: "The Ideal Landing Page Template"
For generating more qualified leads from the web
DOWNLOAD TEMPLATE
If you do use the template, let us know about your results in the comments!
If you found this post useful, please feel free to let us know with a share on your preferred social network. Thanks!