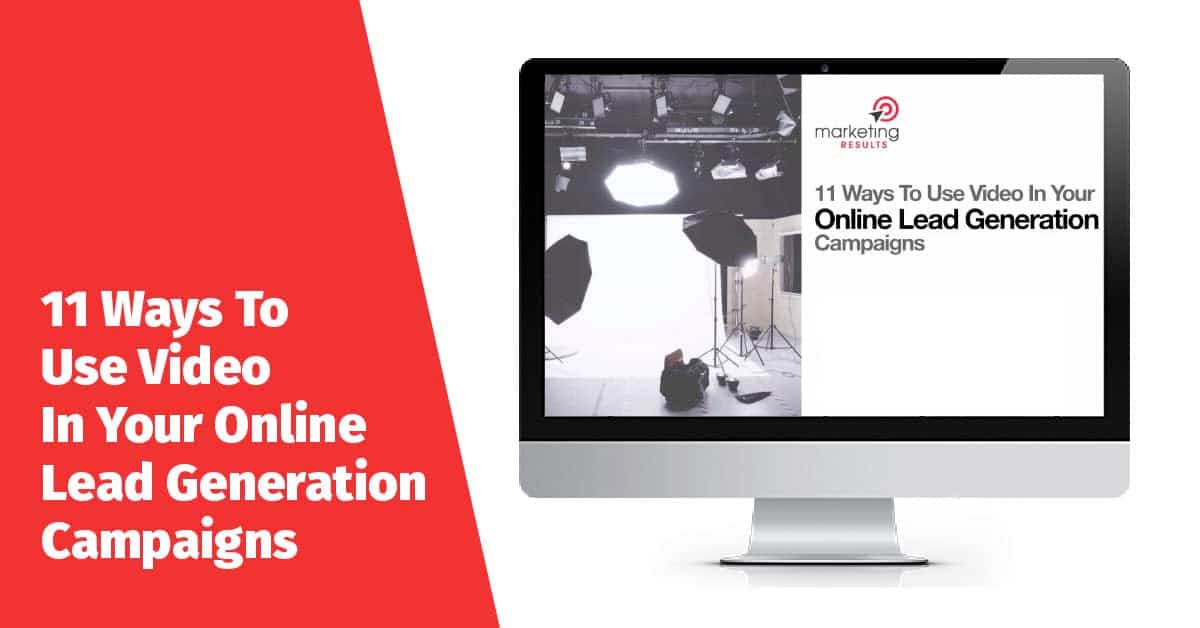 In this video, Digital Strategist Ben Sweetlove explains eleven smart ways to use video to increase the effectiveness of your online lead generation campaigns.

In the above video, I'll discuss the following 11 ways to leverage video in your online lead generation campaigns:
Offer Explainer Videos, on your landing pages
Video testimonials
Videos on your thank you pages, to promote the next step in your sequence
Value-rich videos for your email nurturing sequences
Animated gifs for emails (to give a preview of your video)
Video blog posts
Apps like "Bonjoro" to nurture prospects
Indoctrination videos
Animated explainer videos
Email footers – containing link to a video(s)
Webinars
Video Transcript
Ben: Hi there guys. It's Ben here. Now in this video blog post, I'm going to talk about 11 ways you can use video in your online lead generation campaigns. Now a quick caveat, I'm definitely not going to talk about recording techniques or camera types or software to use. I'm not going to talk about that sort of stuff. I am going to talk about how you can actually use the videos that you record in your marketing, in your digital marketing. So I mean, look there's plenty of blog posts out there, just you know, run Google searches if you need video editing software, that sort of stuff. I'm not going to talk about that. I'm going to talk about how you can actually use it and leverage it to get better performance and better results from your Lead Gen Campaigns.
So let's get into it. Now, first of all I want to start by debunking a bit of a myth. You can see on the screen here, the image on the left that I've chosen contains some pretty impressive lighting. Contains, looks like lenses there. There's the white background screen. There's the reflection filter thing on the floor on the left. You don't need that stuff. You definitely do not need all of that stuff to record videos that you can use in your online marketing. And that's takeaway number one that I want you to walk away with. You can record effective videos using the front-facing camera on your laptop using the front-facing camera on your smartphone. Or even if you get a tripod and a smartphone adapter, which just go to Harvey Norman or JB Hi-Fi or order it online. You can actually mount your smartphone on top of a tripod and that can be very effective as well for recording those videos. So that's message number one is that you do not need a whole heap of expensive equipment to record useful value providing videos for your lead generation campaigns. That's point number one.
And look, video is so effective at the moment, so effective when it comes to platforms like Facebook, like email marketing and even on your website as well. And I'll talk through some places in which you can use video. There's a saying that a picture says a thousand words. Video says so much more than that, because obviously you're talking and you're delivering a message. But there's also nonverbal communication as well, which as you hopefully know, that's more important than the actual words that you're saying. There's another saying that we buy from those we like and trust, and using video you can get your prospects to like you, they can have this connection in their mind of, okay, I like Ben, he's a pretty nice guy just based on what I'm seeing on screen here. So that's another benefit of using the video format.
So let's get into it. And like I said before, these are definitely not, I'm not going to talk about software, I'm not going to talk about how to render videos, nothing like that. This is the actual ways in which you can use video to improve the performance of your Lead Gen Campaigns. And the first one is to do with the offers that you have on your website and in your digital marketing collateral. Now hopefully you have a series of offers as part of your nurturing process. You might've have a top of funnel offer, which could be to download a report, download a checklist, download a video series or something like that. And you may have a bottom of funnel offer, which could be a free consultation or some form of a fairly high engagement offer. I'd hope that you have landing pages for those offers. And that's where we can use video to really just explain the benefits that your prospects are going to get when they take you up on an individual offer.
So let's use an example of a bottom of funnel offer, which might be a free consultation. In your video it'd be yourself or somebody from your team on screen really just walking through the benefits of the free consultation itself. So make it very natural, very organic, and make it as if you were just explaining to somebody that you just met the reasons why they should take you up on that offer. So definitely talk about benefits? Definitely talk about the problems that you're going to help your prospects overcome? Definitely talk about the aspirations that you can make come true, that you can bring to life as part of your offer. So, really drill down into those benefits and hopefully you've addressed those in the copy on your page, if you haven't, then there's a pro tip. And really just make it a 60 to 90 second, it doesn't have to be too long. 60 to 90-second video that just talks about those benefits, talks about your prospect's desire and state, it welcomes them onboard, says yeah can't wait to chat with you. Demonstrate your enthusiasm to get them to request that particular offer.
Now when you've recorded that video, you can mount it on YouTube, you can upload it to YouTube that doesn't cost you anything, and you then place it on your landing page in the top splash area. So that's a pretty good one. I'm a big fan of dropping my iPhone onto a tripod and I've done this in the past. I do it quite a bit to record videos like that to complement those offers.
So number two video testimonials, this is another good one. Now a video testimonial is basically a recording of say if you have some happy clients or happy customers, it's really just them talking about their positive experience with you and your business. Now video testimonials are almost like the holy grail of marketing collateral. I ran a campaign once for a client using a video testimonial on Facebook, it was a cold traffic campaign. So by that I mean we were sending cold traffic, traffic who had never heard of my client before. They were seeing this video testimonial, then they were seeing a landing page with a call to action. So it was a cold traffic campaign, and this particular video testimonial was the highest performing ad and the lowest cost per conversion and the highest conversion volume of all time. So you know they're very powerful when you use them in your paid traffic campaigns. And much like video number one does not have to be long, it can be 30 seconds, it could be one minute. Just have a very happy customer explaining their positive experience with you.
So you can use them in Facebook campaigns. I definitely recommend that you add them to your website and use them in email marketing as well. You can just send a link in email marketing, which I think is one of the points to follow. So video testimonials are very good. And the example I gave before, my client literally said, hey, would you mind if I recorded a quick video testimonial? The client was fine with that and he held the phone up in front of him and he used the back camera on his phone to record that video testimonial. There was definitely no lighting involved. He didn't even have a tripod. There was no sort of fancy production. It was just them recording their testimonial and that was it. And I think that that certainly is a positive quality, because it makes the testimonial a whole lot more real if it's recorded without a tripod quickly and on the go. So I think there's something to say for that.
Number three, adding videos to your thank you pages to promote the next step in your sequence. Now hopefully you are using thank you pages, and a thank you page is the next page that somebody sees after they request one of your offers. So say if someone requests a checklist that you've got, as soon as they hit submit on the form, the thank you page is the next page they're going to see. And a thank you page it achieves a number of things, it allows you to run tracking in Google analytics. And you can also explain it on the message. You can say, one, thanks for requesting, please check your email inbox or if the thank you pages for a free consultation. The first message would be, thank you for requesting the free consultation. A member of our team will contact you shortly.
Now what I would suggest here is you actually add a video to that thank you page to the thank you page itself to one, you know, welcome them and say thank you for requesting whatever they've requested and then two talk about the next step. So that might be, you know, a member of our team is going to call you in the next five minutes to book in your session. On behalf of the team welcome to whatever your business name might be, we can't wait to help you. And then just reaffirm them that they've made the right choice in reaching out to you. It's that sort of stuff that will assist your sales process. If your prospects could see, oh, these are nice guys, they care about my desire and state. They're committed in achieving the outcome that I want to achieve, that is going to really help you. It's a 60 second at most video that can do quite a lot of heavy lifting when it comes to that decision-making process that goes on inside the mind of your prospects.
Number four, value-rich videos for your email nurturing sequences, this is a good one. Much like the video that I'm recording now, this will be used in our email nurturing sequences for marketing results. So you could record a 10-minute mini Webinar that talks about a particular topic, that demonstrates your thought leadership and your expertise. A mini-webinar is a pretty good format. Then email them to your email list. And that can either be via a manual broadcast or as part of an automated sequence. That's another really good format.
Number five, animated gifs for emails. This is a good one. Now, an animated gif, you're probably familiar with what an animated gif is. It's like an image that moves, it's not a video file. It is an image file, but it looks like a very short or very small video. And if you're not sure what it is, just do a quick search for animated gif and I think you'll quickly understand. What you can do is use video software, and once again you can Google this and find this, there are quite a few different software tools that do this. You can convert your videos or short clips of your videos into animated gifs. And what you then do with those animated gifs is you add them to an email. So you may or may not be aware that when you send an email, you can't embed a video in that particular email. It's just the way that email works. You can't watch a video from there, but you can embed an animated gif, and that allows you to get a bit of a preview of the video that you're sending out. So you can make it so that whenever the reader clicks on the animated gif image, it takes them through to your actual video page itself. But it's good for increasing that click-through rate. So it shows people that there is actually a video, they click on it and then they watch the actual video itself. So this is a good little hack that you can use to increase the click through rate of your email broadcasts.
Number six, video blog posts. Much like this one that I'm recording now, you can record video blog posts. The written format or written blogging is quite challenging for me because I don't have a lot of time to sit down and actually punch out a long format blog post. So I like to record videos like this where I just talk to a screen, I'll get this transcribed and you know, hey, Voila, there's my video blog post. So this is a good one. So if you're like many of the business owners I speak to when I recommend a video, they're like, oh, I don't really want to get in front of a camera. That's fine. Just do this. Knock up a PowerPoint presentation or keynote or whatever you use to record these, you know, record your slides and just do what I'm doing now. Use a screen capture software to record yourself talking to a presentation.
Number seven, apps like Bonjoro to nurture prospects. Now Bonjoro is a neat little tool and I'll explain the context. Say if you have a sales pipeline and you might have 30 prospects in your sales pipeline who are using a platform like Salesforce or Infusionsoft to manage that pipeline. What Bonjoro does is, it allows you to record custom videos, short custom videos for each of those prospects. And Bonjoro handles the whole delivery process.
So say if you have prospect number one, that's John, prospect number two, that might be Sarah. What you can do is you can record a very quick video using the Bonjoro platform. It's either on your phone or on your computer. Say, hey John, great to chat with you the other day. Just following up on our conversation, please let me know if you have any questions. Cheers. You then send that using Bonjoro off to John and then you record the next one to Sarah. Hey Sarah, good to chat with you the other day. Did you have any questions on the XYZ thing that we discussed, please let me know. Cheers, Ben. Bonjoro will then send it. It's a 30 second video that is personalized to the prospect that really gives them a bit of a warm and fuzzy feeling on the inside thinking, okay, Bens just recorded me a video asking how I'm going, following up, that kind of stuff and that can really bolster the performance of your sales pipeline. So Bonjoro's great. You can Google it. I'm sure there are other alternatives as well. This is just the one that I've heard of. Take a look at apps like that.
Number eight, we have indoctrination videos. Now indoctrination videos are things like meet the team, about us, behind the scenes, team member profile, where your prospects can watch a video and learn more about your company, your company's values, the people inside your company, how you do what you do behind the scenes, that sort of stuff. Once again, you can record it using the camera on your smartphone. And these types of videos can go a very long way when it comes to the whole concept or situation where your prospects like who you are. If they can see that you've got fun, happy people working behind the scenes, that can really be a point of differentiation when compared to your competitors. So indoctrinated videos are really powerful.
Number nine we have an animated explainer video and I think this one is pretty straight forward. You can go to places like Fiverr or Upwork for an inexpensive explainer video, up to custom video development houses who will charge you $100,000 to create an explainer video. And these can be used in a multitude of situations. They can be used on Facebook, they can be used on Twitter, they can be used as part of organic or paid campaigns. You can use them in your email marketing, you can use them as part of your sales process. Definitely use them on your website. And really what they do it's just a neat way of explaining the value you provide and how you're different fundamentally. And this can be a good way to sort of create almost like a TV ad without needing a TV ad budget.
Number 10, using or adding a link to your videos in your email footer. Now a good example of this is, jumping back to point number one with having those videos on your offer landing pages. What I would suggest is if you have a bottom of funnel offer, which is the start of your sales process, it might be a free consultation. I'd suggest having a link to a video that talks about your free consultation in the footer of every automated email. Now that video, I would suggest, you know, that it'll be 60 to 90 seconds in length and no longer. And plaster that in as many places as you can in your automated emails, because you want as many people as possible watching that video to learn about the value that they're going to get when they take you up on that bottom of funnel offer or that free consultation. For extra points you can add a little video image screenshot like a little thumbnail, so people could actually sort of get a short preview of what they're going to see.
And then lastly, we have webinars. And this is an obvious one. Webinars are a great format for communicating value and weaving in a sales message. So you can essentially show, not sell. There are lots of different platforms you can use to launch and display webinars. And there's number of formats as well. There is a format like this where it's just like a PowerPoint or a keynote presentation, or it could be yourself on screen. The whole directive or the purpose of a Webinar is to one, provide value, so solve a problem or create a desired outcome for your prospects. And then you can do some selling. So then you can talk about what it is that you're selling, whatever that call to action might be. So webinars are much like this video post, but they're a lot longer, sort of 45 minutes or so to an hour, depending on content. But they can be a very, very effective tool when you used correctly in your sales process.
If you've found this article useful, feel free to use these video strategies in your own campaigns.
Or if you want to discuss a more tailored, "done for you" service (where we take care of your lead generation for you), then get in touch to talk more about your situation and how we can add value.
GET STARTED NOW BY REQUESTING A FREE GROWTH SESSION