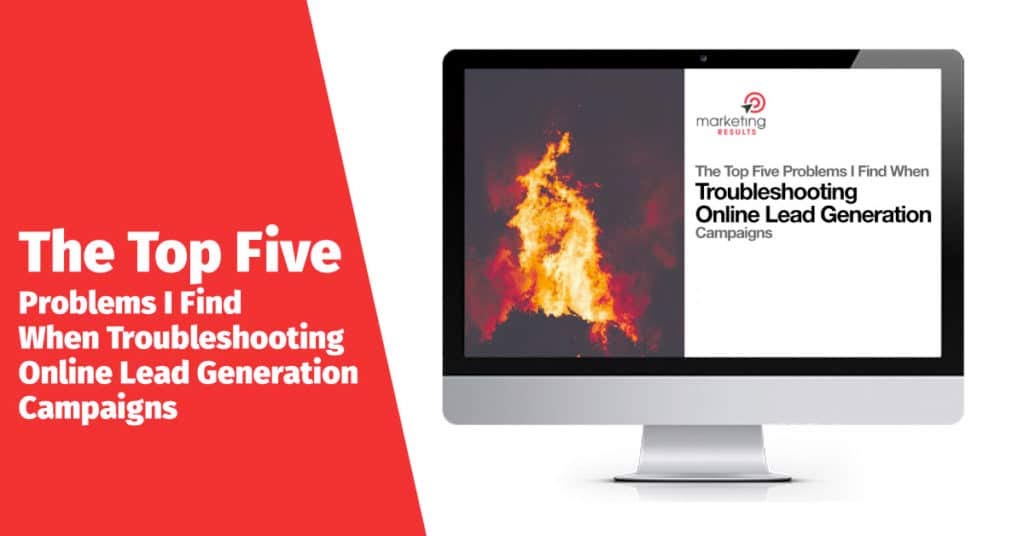 In this video, Digital Strategist Ben Sweetlove explains five common problems found in existing, underperforming lead generation campaigns.
Video Transcript
Ben: In my position as strategist, I am in the fortunate situation where I get to peer under the hood of plenty of existing lead generation campaigns. So when a client comes on board with us, most times they will bring along with them the campaigns that they've been running in the past, whether that's on their own, whether that's via another agency or another consultant, I get the chance to take a look at them and troubleshoot them. So the clients come on board because they're obviously not getting the results that they're looking for and it's now on to us to diagnose, troubleshoot, and then create those campaigns that do create those results.
And over the years, and I have looked inside of dozens and dozens, probably hundreds of campaigns and that's things like Facebook campaigns, Google Ads campaigns, sometimes LinkedIn campaigns as well, to just troubleshoot them and work out what's going on. Over the years and via all of those campaigns, I've noticed a set of patterns or a pattern or a series of common problems that I find when I do troubleshoot those campaigns. And there are five and that's what I'm going to talk about today.
So this is going to help you if you are in charge of managing a campaign. If you're a campaign manager, if you're doing a tactical, in the trenches management of a particular campaign using landing pages, potentially using nurturing as well, then this will definitely help. Or if you are paying an agency or a consultant and it's not working as you would like it to be, then this might help create a bit of a conversation. I definitely don't want you to go and throw your agency on the fire as you can see here. But hopefully it should just spark a bit of a conversation to just ignite a troubleshooting process. So let's get into it with these five common campaign problems.
1. Inadequate Differentiation
Now, first of all, the first one is inadequate differentiation and the theory here is that it's really, really difficult to market a business, to market an organisation if they are not differentiated or if they're not unique. So let's say you're trying to sell a red car and you put it up against another red car, it's going to be pretty difficult to successfully market that car. So the theory here is that you need to be differentiated in some way, that's the core problem. And I see that a lot is that a lot of businesses will design a campaign which includes ad messaging, landing page messaging. When you compare that against their competitors, there's not a whole lot of difference just via the copy and the words that they've written, there's not much difference. So the problem here is that, well let's look at the solution. The solution here is that we want to create points of differentiation in that campaign. Now there's two ways to look at this. One is by going to the very, very roots, the very core of the business and saying, hey how can you be different? I understand that that is not always possible. A complete business revamp is definitely not always possible, but hopefully this creates a bit of soul seeking in your organisation if you're a business owner. Maybe this does spark a bit of that internal review process as into how you can actually provide that unique value and unique benefits to your customers.
If not, then what we do is we look at different ways in which we can reposition or reframe smaller points of differentiation. So that's things like the types of customers that you provide value to. That's how many years you've been in business, that's your experience. It's your expertise, it might be your IP or the process that you use to create this outcome. So we then take that and we massage that into messaging that sets you apart in your marketplace. So that's really important, and that's the first one. That's probably the biggest one. That's the biggest problem that I see is just inadequate differentiation.
2. "Brochure" Marketing
Now the next problem is brochure marketing. And this is a phrase that I've coined for websites and landing pages that contain messaging that only talk about 'what we do', and I'm making the inverted comma sign with my hands here, 'what we do'. So you go to a site and the site on the homepage says we do this, we do that, this is about us, this is our team, this is where we're located. It's really just like you're flicking through a corporate brochure for the company or the organisation. In modern lead generation that is not an ideal. That's not an ideal situation. What this is not doing is it's not creating a connection with your prospects. Your prospects are just going to read about you, yeah okay, they're going to be pretty uninspired unless you do something quite remarkable, chances are your prospects are not going to be inspired and there's not going to be that connection created.
The solution to brochure marketing is making your website actually more about your prospects than it is about you. So you want to talk about the problems that you solve for your prospects. You talk about the aspirations that you create or the dreams that you can make come true for your prospects and talk about the benefits of your offering, of your product or service because benefits are relevant to your prospects. Benefits are what it actually means to your prospects or to your customers. So by doing this and by flipping the script on that language and making your website and your landing pages more about your prospect, you are creating that connection. Because when your prospects read through those problems, when they can read through the problems that they're experiencing in their mind, they have a bit of an 'aha' moment where they think, oh wow, this organization gets me, this organization understands my problems, it's like I'm reading a page out of my diary.
And then when you can logically as part of the sales conversation on your page, as part of that direct response strategy, you then weave in your solution. And you weave in how you can make their dreams come true so to speak. So what you want to avoid is brochure marketing, avoid we do this, we do that, avoid that. But look that's important, it's important to have that to some degree. So you want to have an 'about us' page and 'meet the team' page, that's good for indoctrination and that decision-making process. But I would not recommend that it's your core strategy. You definitely want to have that direct response approach where your site is more about your prospects than it is about you.
3. Landing Page Firepower
Now moving on to the next one is landing page firepower. And this is a pretty big one. A lot of campaigns. I mean there's two parts to a campaign, right? When we talk about a paid traffic campaign, there's two parts. There's the traffic source, whether that be Facebook, Facebook advertising platform or Google ads, and then the landing page, so the place in which the traffic is meant to convert. And a lot of campaigns that I see, the first part, the traffic source is running well, you know, there's not a lot of improvement we can do there. But what does an improvement is the strength of that landing page. And so that's something to focus on, and that's looking at things like pain points, hot buttons, offers, proof, friction, reducing friction to improve the strength of those landing pages.
Now like I said before, your landing page has got to speak in terms of benefits and the language and the unwanted problems and desired outcomes that your prospects and customers are looking for, and you use pain points and hot buttons for that language. You want to have pretty strong offers. So gone are the days of just offering a 'contact us now' or 'enquire now' as an offer. That's not really an offer at all. That's just the way in which somebody can reach out to you. You want to give people an actual valuable reason for them to reach out to you and contact you. A free consultation or a free strategy session or something like that is a good bottom of funnel offer for a service, if you're offering a complex service. Proof, that's pretty straightforward, that's having things like reviews, testimonials, case studies even on your site, and reducing friction. So you want to make it really, really easy for your prospects to convert via that landing page. Don't have too many fields in your forms. Consider eye flow. You know, don't have big blocks of texts, big chunks of text on your landing pages, and definitely use the word 'you' a lot. That's a big one. People, they want to know how things are relevant to them. So use the word 'you' and things like that. So do what you change to reduce friction.
4. Branding Vs. Direct Response
Number four is branding versus direct response. Now this is an attitude that I see often. A lot of clients and potential clients that I speak to they're very married to their brand guidelines and their style guide. So they know that the direct response marketing isn't as attractive as their branding. And so what they do is they stick with branding and I often see landing pages that visually look great, so they look nice, there's been a lot of design execution involved in creating them, but they don't have a very strong direct response strategy. And direct response is mostly language. It's mostly the words on the page as opposed to the design on the page. So what I suggest is, I mean my response to that is that there is a happy medium. You can have direct response copy and strong branding. You've just got to tactically execute it, so if you've got the right language, you're saying the right stuff, you're using the right calls to action. And it's overlayed or laid over the top of a great looking visual design execution. So that's something to think about.
So if you are very married to your brand, that's fine. And this is the age-old debate of branding versus direct response. My response is that you can create a happy medium by far. It's very, very possible. And the results are you know when it's executed correctly, the results are even better because the page looks great. It sticks to your brand principles, it sticks to what your brand represents, plus you have that direct response stuff that's pulling most of the weight. So that's an important one.
5. Inadequate Nurturing / Inadequate Qualification Of Traffic
And the last thing we have, inadequate nurturing or the inadequate qualification of traffic. And this is a big one as well. There's the saying that you don't ask somebody to marry you on the first date, well hopefully you don't do that. Maybe you have maybe it worked for you, but that's a general saying that you wouldn't ask someone for a huge commitment in their first experience in dealing with you. You do want to have that nurturing process. So people particularly now the state of the internet, the way the people use the internet nowadays, people are very sceptical. There's so much spam out there, there's a fair amount of deception with spamming and hacking attacks and all that kind of stuff with data privacy. So people are sceptical, and people need more nurturing more now than ever.
So that means that if you are running a landing page campaign, so a paid traffic campaign that is sending traffic through to a landing page and you're asking for a whole lot of information up front or a whole lot of commitment up front and it's not working, maybe you need to nurture, maybe you need to take a step back, offer something that is of lesser commitment. So it might just be offering some information up front, like a checklist download or a very short white paper or something like that, and then nurture them using email marketing so they get to know you. They know that you're a trusted brand, they know that you know your stuff, they know that you can do what you say you're going to do, and then you ask them for that commitment of whether that's inquire now or a strategy session or whatever that might be for you.
And then qualification of traffic that's another one, you don't want to send unqualified traffic to a landing page, you might as well tip your money into the bin. That's very important, and that comes down to strong campaign management.
So those are the five, and once all five are knocked over in a campaign it usually unkinks most of the hoses, most of the blocked hoses. So if you are suffering from any of these, we'd love to chat with you. Request a growth session through the top right-hand corner. There should be a green button on our site to request that growth session, if you're stuck, we'd love to troubleshoot them for you. And if so, I look forward to speaking with you soon. Thanks for watching.
---
If you've found this article useful, feel free to use these strategies in your own campaigns.
Or if you want to discuss a more tailored, "done for you" service (where we take care of your lead generation for you), then get in touch to talk more about your situation and how we can add value.
GET STARTED NOW BY REQUESTING A FREE GROWTH SESSION