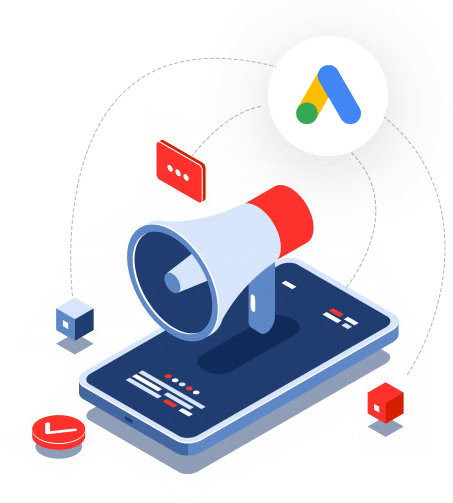 Google Ads is one of the fastest and most direct ways to drive qualified buyers to your website… but unless you really know what you're doing, the clicks can cost a fortune and deliver very little tangible return.
So the question you might be asking yourself right now is, "how can I ensure I dominate the top positions and achieve the highest possible ROI?".
Answer: you need advanced Google Ads management and optimisation techniques that your competitors either don't know or aren't using, to ensure you rise to the top of your industry, and stay there.
Top 5

Reasons To Choose Google Ad Management Services From Marketing Results
1

Proven record of results: we have a long history of delivering explosive ROI for our Google Ads management clients. Not just once or twice, but hundreds of times in dozens of different industries over 18+ years (check out our case studies and before-and-after examples below for the proof).

2

Full-featured service: Some pay-per-click marketing consultants charge you extra for features such as unlimited keywords, multiple ad groups, creative testing, conversion tracking and KPI reporting – we provide them as standard.

3

Advanced insights: We use sophisticated tools to report and optimise Quality Score on a per-keyword basis, so you pay less than your competitors for the same clicks, tipping the scales in your favour.

4

Holistic approach: our input is much greater than just bids and keywords. You also benefit from enhanced creative messaging, tighter targeting and stronger calls to action.

5

Proactive management: We're always looking to raise the bar. Our approach is not "set and forget". You can expect more, higher-quality clicks and conversions each and every month you use our service.
Want Proof? Check Out These Before-And-After Google Ads Management Case Studies
The following screenshots are just a few examples from our extensive library of documented client case studies. They illustrate how clients have been able to benefit from our help and how you can too.
Before And After
Google Ads Case Study No. 1
From just 9 enquiries… to 186 enquiries per month, at dramatically lower cost.
Before And After
Google Ads Case Study No. 2
65% more leads at 18% lower cost per lead, in 3 months.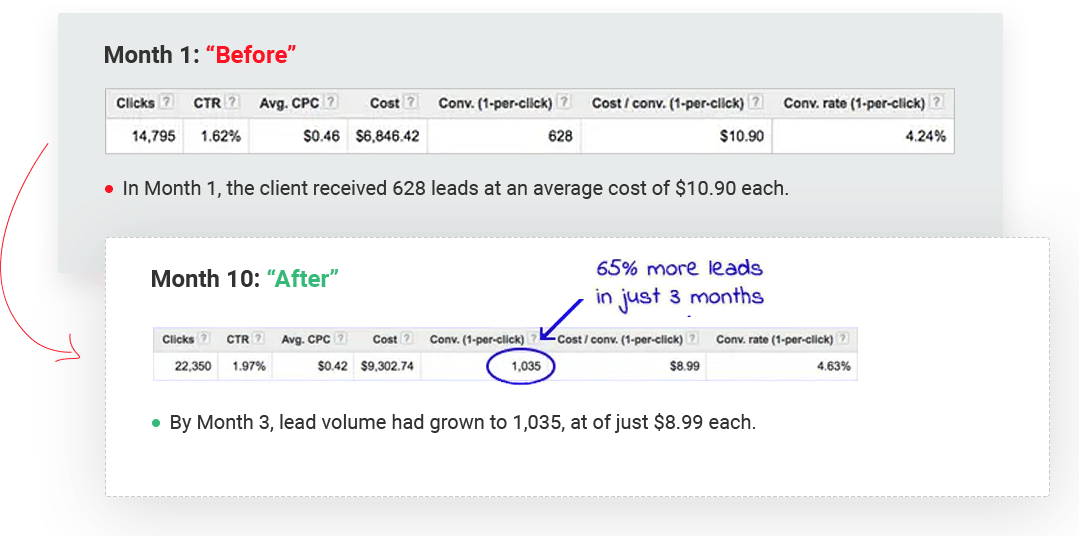 Before And After
Google Ads Case Study No. 3
89% more enquiries at 21% lower cost, in 3 months.
Want Even MORE Proof? Here's What Clients Are Saying About Our Paid Traffic Management Services
"In 90 days, we doubled web lead flow with 60% less marketing spend, with much of that increase due to Google Ads management and optimisation."
"We very quickly saw a 35% jump in lead volume at 75% lower costs. That's right: our leads were one quarter the previous cost."
"Lower cost per click, lower cost per conversion and multiples more leads."
"Within 3 months, we were seeing almost 4X more calls and online leads, at one third the cost compared with when we started."
"We couldn't be happier – conversion rates are up, costs are down, ROI has doubled."
"Marketing Results has been instrumental in profitably expanding our ad spend, while removing waste."
Who Else Wants Results Like These? Start With A FREE Google Ads Account Audit
Even though we've already delivered a positive ROI to hundreds of clients over almost two decades in the industry, you may well be wondering what we can do for YOU in your specific situation.
The fastest way to find out is to request a Free Online Marketing Growth Session with a senior consultant.
Although your Growth Session will typically be holistic in nature, one of the focal points will be a complimentary "Deep Dive Google Ads Audit".
This Audit will show you ways to cut waste, scale lead volume and maximise your Return On Ad Spend (ROAS) with advanced Google Ads management techniques.
If our ideas make sense and you agree our approach can bring in more revenue and save you time, then we can explore a commercial relationship. However, there is no obligation of any kind. Just a no-risk way to see what's really possible for you.