Almost every day it seems like there are more and more digital tools and strategies for you to choose from.
And yet after spcialising in online lead generation since 2003, we've found there is only only one thing that business owners and marketing professionals care about:
RESULTS.
You want tangible outcomes from your online channel… You want a steady and consistent pipeline of qualified leads… at the lowest possible cost… and with the lowest possible risk.
And, you want them sooner rather than later.
So while there are hundreds of potential tactics that are all vying for your attention, there are only TWO strategies that produce the biggest and most reliable Return On Investment online:
Paid Traffic + Landing Pages
That's why the Gold Client Program is focused on these two strategies only.
Just look at a small selection of the bottom-line results other Gold Clients have already enjoyed:
549 qualified sales leads in 3 months
We've increased qualified enquires more than 5-fold since working with Marketing Results
With Marketing Results on our side, our website revenue has increased by over 800% in only 18 months.
We now have a steady pipeline of web leads to proactively supplement referral business
Gold Client deliverables and benefits
The key aim of the Gold Client Program is to generate a super-profitable stream of leads and sales for your business with paid traffic (Google AdWords and/or Facebook Advertising) plus landing pages.
We create and install high-converting landing pages for you, including design, copy, integration, lead notifications and analytics.
Then we build, proactively optimise and report on high-performance Google AdWords and/or Facebook ad campaigns.
There are no lock-in contracts – Cancel at any time with 30 days' notice. Following a successful trial, we normally partner with clients on a long-term basis to achieve short, medium and long-range growth objectives.
Tap into "the power of multiplied testing": Across the Gold Client Program and our higher-end Platinum Client Program, we work with scores of companies across multiple industries. We have deliberately adopted this structure to allow insights and results from one industry to be cross-fertilised into another. This effectively allows you to test new approaches up to 10 times faster than your competitors, increasing profits and avoiding costly mistakes in the process.
New clients are admitted gradually into the program to ensure we maintain the highest levels of service. There are several periods every year in which we are unable to accept new clients. During these periods, a waiting list is established until further capacity is available. We will advise what waiting period(s) may apply upon receiving your enquiry.
I now make twice as much money, have less stress and work fewer hours
We've gone from 5 – 6 leads per month to 60 – 70!
Simple, Transparent Pricing
We've made pricing for the Gold Client Program simple and transparent:
Gold Client Program Core Service (includes Landing Pages plus your choice of either Google AdWords or Facebook Ad Campaign Optimisation): $3K + GST per month. Your core service includes:

Landing page design, copy and integration
Landing page hosting on your domain
Setup of Google Analytics and Conversion Tracking
Lead alerts to email address(es) of your choice
Lead notifications to your CRM
Setup and management of paid traffic campaigns on either AdWords or Facebook
Direct-response ad creation, design and copywriting
Keyword or audience research
Ad, keyword, placement and/or audience testing
Weekly metrics reporting
Monthly strategic phone or Skype call with a Senior Digital Strategist

Additional Service Options:

Add full optimisation for additional paid traffic source (Google AdWords or Facebook ads): $1K + GST per month
Add remarketing only campaigns for either Google AdWords or Facebook ads): $500 + GST per month
Add advanced reporting and analysis (over and above standard dashboard reporting: $500 + GST per month

Paid search media spend is separate, and is paid directly to either Google or Facebook in line with an agreed budget
Gold Client service covers media spends of up to $10K per month. Beyond $10K/mth, additional fees may apply to account for extra optimisation time required
Service Level and Results Guarantees
"Seven Day New Campaign Launch" Guarantee
We'll have your landing pages and traffic campaigns up and running within seven business days from the moment your first invoice is paid (providing you can provide feedback and required information within this timeframe).
"Thirty Day Results" Guarantee 
If we don't generate you more results in the first thirty days of campaign management than your previous 30 days of campaign activity, we'll refund your management fee… no questions asked. For this guarantee to apply, we assume you have been previously running the relevant traffic source, and that you have had accurate conversion tracking set up for the prior 30 day period.
Even More Client Results
We're generating 10 qualified mortgage leads per day.
We got 870 paying clients in the first 7 days.
>60+ sales leads per month and an additional $200K revenue in Year 1
45% revenue growth achieved in 3 months, without taxing our in-house resources.
In 90 days, we doubled web lead flow with lower marketing costs.
What the Gold Client Program IS:
The Marketing Results Gold Client Program is a unique paid traffic and landing page service, designed to generate more leads and sales with lower marketing costs; with no lock in contracts and the benefit of multiplied testing across our entire client base; backed by an unrivalled track record of bottom-line client results.
What the Gold Client Program IS NOT:
Marketing Results does not become your entire "outsourced marketing department". Our core brief is to boost your website leads, sales and profits by deploying effective paid search and landing page strategies.
Extensive "capital works" (i.e. building a new website) are beyond the scope and are quoted separately. We also offer a range of premium service upgrades, including:
Digital Strategy consulting
Deep marketing automation of your entire customer life cycle
Sales process consulting – making your sales process become more efficient and effective, increasing sales conversion rates and reducing sales cycle times
How To Apply
All you have to do to get started is to give us a call on 1300 737 858 or request a Growth Session online to arrange an exploratory discussion via phone.
During this chat, we'll:
Analyse your current situation, including what you've tried and what the results were.
Clarify the specific outcomes and goals you'd like to achieve and by what timeframe.
Then if we feel we can help, we'll provide you with concrete strategies for getting from where you are now to where you want to be.
After this conversation, if we both agree there is a basis to explore further, we'll explain the details of how this would work.
On the other hand, if either one of us feels this is not the right fit, no problem and no hard feelings.
About Marketing Results
Marketing Results has an unrivalled record of demonstrated bottom-line results for marketers of complex services and major products since 2003.
We believe most digital marketing agencies get it wrong. They focus on driving rankings, not revenue. All we care about is how much revenue and profit we can create for your business, by optimising your entire online sales process.
Affiliations and speaking credits: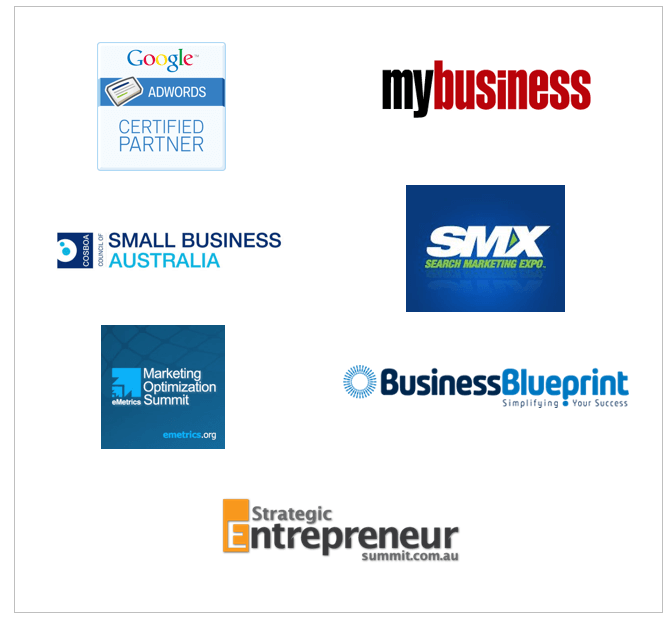 GET STARTED BY REQUESTING YOUR FREE GROWTH SESSION