Don't Spend Another Cent On Traffic Generation Until You Consider How You Could Be Turning More Existing Visitors Into Loyal And Profitable Customers
Many website owners continue to throw more and more money at traffic generation… when the fastest and most reliable way to increase website profits is often to improve the percentage of visitors who turn into qualified leads and new customers.
Every percentage increase in conversion rate pumps more profit into your business (without ballooning your traffic budget).
And when you boost your conversion rate, you're also setting up your business for rapid growth — by transforming currently unprofitable traffic into profitable traffic, and currently profitable traffic into highly profitable traffic.
When your conversion rate is high enough, getting traffic is no longer a problem, because you can profitably fund all the traffic you need!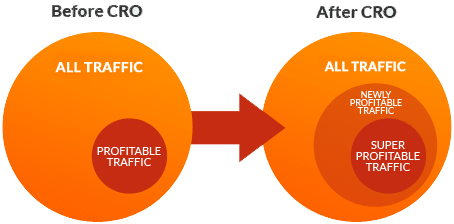 Conversion optimisation gives you the economic engine you need to get more traffic and make more profit from every visitor!
Let's Face It… There Are Dozens of Things a Business Needs To Do To Optimise Their Online Profits
(And trying to do them all yourself is just not going to happen)
You're probably acutely aware of things you SHOULD be optimising on your website.
It's just a question of what you CAN get done yourself or in-house.
There are so many facets to optimising your website. Driving traffic… creating content… being active on social media… building your list… sending emails…networking and building relationships…
Even strong businesses with a lot of employees find it hard to devote resources to optimising conversion because there's always so many OTHER things to be working on.
And getting really good at conversion optimisation takes time, energy and perseverance.
That's why this area of your business is best left to professionals. People who "live and breathe" this stuff every day.
And because we've worked on hundreds of conversion rate optimisation projects before yours, we're often able to quickly "cross fertilise" proven concepts from other industries into your website, so you can enjoy some quick wins, right out of the gate.
How The Marketing Results CRO Methodology Rockets Your Conversion Rates
We have developed a reliable process for delivering conversion rate improvements that is rolled out in five phases:
Phase 1: Low Hanging Fruit
As a result of conducting hundreds of conversion tests, we can usually identify key tweaks and conversion bottlenecks in your site that can be quickly remedied, resulting in some easy quick wins for you.
For example: weak benefits in your headlines… or the wrong type of benefits in your headlines… not enough proof elements… or proof in the wrong place… sub-optimal calls to action… formatting mistakes in your forms… or the wrong "call to action" buttons.
These are the kind of mistakes or oversights that are probably costing you sales right now. And they are all things that can be quickly fixed. That's what we do in Phase 1.
Headlines
Target Market
Unique Promise
Problem Identification
Testimonials
Non-Testimonial Proof
Form Design
Page Layouts
Calls to Action
Menu Structure
Opt-In Offers
List Building Strategy
Attention Hierarchy
And Much More…
Often, simple tweaks to these "leverage points" can bump your conversion rate immediately.
Phase 2: Competitive Insights
Once your low-hanging fruit is harvested, we assemble competitive insights from the most successful players in your industry, both domestically and internationally.
While monkey see, monkey do copying is a BAD idea (apart from the ethical considerations, there's nothing to say your competitors know what they're doing either!), this is a fast way to determine the "conversion blueprint" of your market for you to re-engineer and re-invent to your own advantage.
the specific benefits your customers MUST see in order to consider you as a viable option
successful proof elements in your industry
buying language
winning offers vs weak offers

Analysing why certain competitors are succeeding and others are not, is one of the fastest ways to learn.
Phase 3: Conversion Research
By now, you'll be starting to get a sense for how your market lives, thinks and breathes.
Now, in Phase 3, we move on to discovering and communicating:
how you solve the problems of your ideal prospect better than all your competitors
how to prove every claim you make, and
the best way to motivate prospects to enquire or buy
This phase may incorporate both quantitative research methods (analytics, heatmaps, survey analysis) and qualitative methods (email surveys, usability testing, focus groups, in-depth interviews).
By gaining a detailed understanding of how your best prospects tick, you're already way ahead of the game.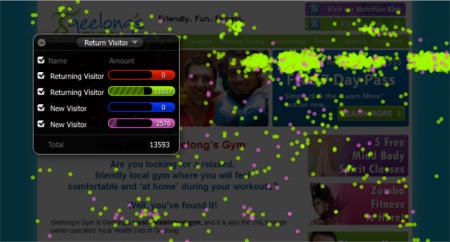 Heatmap analysis reveals the most popular site content for new and returning visitors.
Phase 4: Build The Ideal Pitch
Now it's time to take all the insights gained in the first 3 Phases, and develop new page designs, copy, offers and other test elements to go head to head against your current sales letter, opt in page or website.
By laying the groundwork thoroughly, you have the strongest possible chance of not just beating your control, but of hitting it right out of the park!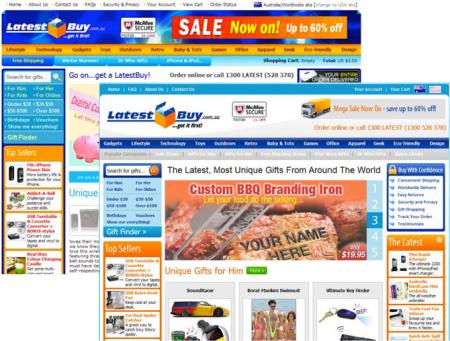 Testing new alternatives delivers more leads and sales from the same traffic.
Phase 5: Conversion Testing
Now we scientifically test your new alternative(s) against your current version to verify and quantify conversion improvements.
Using software, we split your traffic between the different test variations and track the conversion results.
A statistical significance at the 95% level or higher is required to crown the new "champion" version.
This process is iterative; future tests are based on the results of previous experiments. Each new test builds on the success of previous ones.
New alternatives are scientifically tested with split testing software. This test resulted in a 125.98% conversion gain!
How Can We Help You? First Take A Look At How We've Helped Others
Specialist First Aid Training Company doubles revenue, streamlined customer acquisition and increased customer lifetime value in 6 months.
In 90 days, we doubled web lead flow with lower marketing costs.
45% revenue growth achieved in 3 months, without taxing our in-house resources.
Specialised online training provider Breaking Into Wall Street recorded a conversion lift of 37.4% for their $197 financial modeling course.
Niche publisher The Handcrafter's Companion multiplied sales over 20-fold with sequential conversion optimisation tests, combined with traffic expansion.
Contact us for a FREE and confidential discussion
Can our approach to Conversion Rate Optimisation work for you like it has for so many other companies? Maybe, maybe not. To find out for sure how we can help, contact us for an obligation-free discussion of what can be done to improve your conversions.
There is no charge for this consultation, but there is the opportunity to lift your leads, sales and profits, without increasing your traffic costs.
If you still need more reasons why you should be working on your website conversion rate, watch this brief video:
Click here to read a transcript of this video
Hi. It's Will Swayne from Marketing Results, and today I want to talk to you a little bit about the case for website conversion optimisation.
Most small business customers and business owners, when they're thinking about their website, focus on traffic generation, and that has been the overriding sort of theme of website marketing for the last 5, 10, 15 years. People are always thinking about how to get more traffic to their website, whether it be through pay per click, Google AdWords, organic SEO, or through social media or whatever.
This video is about the other side of the coin, which is conversion optimisation, in other words, making more of the current traffic that you already have. I'm going to show you a few slides and talk about a few issues as to why this is a good idea for you to start considering.
First of all, take a look at this slide. It shows that over the last five or six years, working with one particular client in pay per click. You'll see that, when we first started, the cost per click for this client was about $0.16. Lately, their cost per click has actually climbed up to $1.36. So it's the same click, it's just that now that click costs 800% of what it did 5 or 6 years ago.
Now, that's fine, but we now have to convert so much better in order to maintain profitability. So if you're using pay per click, you'll probably find that your cost per click is going up as well, and you need to look at your conversion rate in order to counteract that effect.
You also would have noticed that SEO is becoming more competitive. In the past, maybe in the last three or four years, it was possible to rank well if you had a well optimised website. You could rank well for 5 or 6 or 10 phrases in your market. Now, it's very hard to rank well for many competitive phrases. You might find that you can get one or two keywords, but you can't get a broad range of keywords, which is why conversion becomes even more important.
Another reason to consider conversion optimisation is that conversion optimisation represents the best opportunity for quick wins from your website, so in other words, getting a 20%, 30%, 40%, 50% gain from your website in a relatively short period of time, especially if your website is currently under-optimised.
So, when you're doubling your conversion rates, let's look at some of the benefits that you accrue. First of all, you actually cut your paid traffic bill in half. So the greater the conversion, the less effectively you pay for traffic, and you can save some money on that front, especially when traffic is costing quite a bit of money these days.
A second great benefit is that previously unprofitable traffic sources now become profitable. So you can actually tap into more traffic and grow your, I suppose, revenue and therefore your profit.
When you optimise your conversion rate, also the ROI from all your different traffic sources increases, you generate more revenue, and you now have a bigger war chest to actually pump back into traffic generation or improving your services on backend services and that sort of thing.
Often you can be in sort of an economical battle with your competitors and if your war chest towards traffic is small, then you will tend to be bitten by a competitor who has a high conversion rate, can access more traffic sources, and therefore can generate more revenue and run their economic sort of engine faster and harder than you can run your own engine.
Lastly, when you double your conversion rate, more affiliates and partners want to work with you. If you've ever done a promotion with an affiliate or a partner and your conversion rate is low, typically the partner gets a poor result and says, "Well, we tried and didn't go so well. So, you know, all the best."
If a partner works with you and they get a great result, they probably want to work with you again and more people will be attracted to working with you on a partnership or a host beneficiary basis.
So that's a quick summary of why you should consider website conversion optimisation, and the idea is to start with your current reality, which might be point A, and gradually keep testing and trying new things in order to go through B, C, D, E, F and ratchet up your conversion rate on an ongoing basis.
Thanks for listening.