Real Estate Lead Generation
Investment House – Property Development
Clients lined up for everything we can find
We have clients lined up for everything we can find.
Background
Investment House is a diversified property services firm that provides a full project management service to property investors and "armchair developers".
Managing Director Colin Ferguson wanted to expand online lead generation capacity while educating and qualifying potential clients. One of Investment House's key challenges was that their existing marketing programs were producing too many unqualified enquiries that were monopolising their sales team's time and resources.
Investment House contacted Marketing Results for help generating a higher volume of highly qualified leads, while filtering out as many unqualified leads as possible.
How the objectives were achieved
Marketing Results has worked on an ongoing basis with Investment House to:
Build a response-focused website and online sales funnel designed to capture raw leads and convert them into high-quality enquiries.
Filter out unqualified prospects before they enquire.
Drive more traffic using a variety of offline and online methods including lead generation ads, Google AdWords, Search Engine Optimisation and email marketing.
Establish separate lead generation silos for Investment House's property management and construction divisions.
Analyse and report on results in real time to increase ROI on an ongoing basis.
Key Results
A significant increase in both paid and unpaid enquiry.
Number 1 search engine results for competitive and profitable search terms
Successful education and qualification of enquirers, meaning that Investment House now only deals with genuine prospective investors.
Organic ("free") search engine enquiry has increased to the point where paid advertising can be completely switched off.
More pent-up demand from clients than supply of projects. A constantly full sales funnel.
Investment House Managing Director Colin Ferguson says…
"We have clients lined up for everything we can find."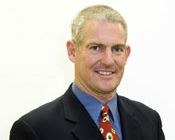 Colin Ferguson, Managing Director, Investment House
"We had a website but it was somewhat amateurish – the business was growing and needed a more polished solution that would educate and qualify potential clients (and filter out the people who weren't potential clients) so we only had to deal with a few serious prospects in person. One of our problems had been too many "unqualified" enquiries taking up too much time."
"We initially chose to work with Marketing Results on the basis of their own website and enquiry processing – it was a good fit with my own philosophy and game plan."
"Since engaging Marketing Results we've seen an increase in both paid and unpaid enquiry to our site. But more importantly, the automatic web-based enquiry handling systems that serve to educate and qualify enquirers has meant we now only work with genuine prospective investors (rather than being clogged up with unqualified prospects). More recently, organic enquiry has increased sufficiently for us to "turn off" the AdWords promotional element."
"At this point, our limiting factor is the number of property development sites we can find. We certainly have clients lined up for everything we can find."