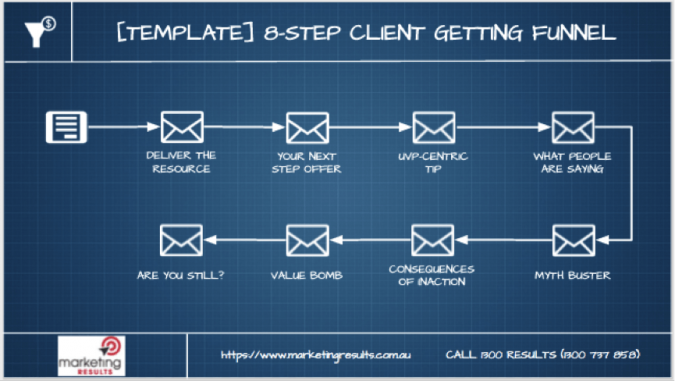 I speak with a lot of business owners who are fed up and frustrated by content marketing.
"I'm giving away lead magnets, publishing blogs and tweeting like crazy, but I'm still not getting the number of qualified leads I need to grow my business."
This is more common than you might think.
And the reason why your content marketing isn't working is because the content you have doesn't lead logically and emotionally to the sale.
Either you're not able to entice your ideal prospect in the front door.
Or, once they get in the front door, there's a disconnect that stops them from wanting to engage with you.
What you really need is a sequence of client-attracting communications that break down resistance and magnetically attract prospects to want to engage with your sales process.
You need….
The 8-Step Client Getting Email Sequence
Start by creating a problem-solving resource for your target customer that will act as your "Lead Magnet".
The most common formats are a White Paper, Special Report, Cheat Sheet, Template, Video or Video Series.
Our core Lead Magnet is our "Double Your Website Leads In 30 Days" video series, though we offer many others.
Your Lead Magnet should have a problem-solving title that is related to your product or service.
Here are a few examples:
Business: Builder
Core Service: Home Renovations
Lead Magnet Idea: How To Prevent Cost Blowouts When Renovating Your Home
Business: Financial Planner
Core Service: Property Investment Mentoring
Lead Magnet Idea: The Property Investor's Suburb Selection System
Business: Procurement Consultant
Core Service: Managed Procurement Services
Lead Magnet Idea: Top 7 Procurement Strategies For Putting $10K – $100K Back In Your Pocket This Month
7 Tips For More Effective Lead Magnets
The title must solve a problem
It should hit a pain point related to your Unique Value Proposition.
It should be differentiated from what competitors are offering
It should carry high perceived value
It should contain high actual value
It should contain 90% valuable information, 10% sell
It should be "useful but incomplete" 
Once your Lead Magnet is created, you're ready to place your resource online and collect prospects' email addresses in exchange for access.
Now it's time to launch your 8 step client-getting sequence…
Step 1: deliver the resource you promised (and resist the urge to hard-sell your products or services).
Step 2: make your "Next Step Offer". Simply explain what the next step would be if the prospect would like your help to solve their problem. Typical Next Step Offers are a Free Consultation or a Free Quote.
Step 3: A few "fast twitch" prospects may respond to your Next Step Offer, but most will not. So you send them a "UVP Centric Tip".
As the name implies, a "UVP Centric Tip" is a valuable nugget of information or advice that ALSO matches the overall strengths of your business. (UVP stands for Unique Value Proposition).
For example, a building contractor that offers fixed price contracts and "no surprises" might talk about the loopholes that many builders use to pad quotes or extend an originally quoted price.
Step 4: "What People Are Saying" – this is an email where you publish a few of your best customer testimonials or client reviews that back up your capabilities.
Step 5: Next up, send a "Myth Buster" email. Like the name implies, this email should explode the biggest myth or half-truth in your industry and reveal the truth.
For example, in digital marketing, one of the myths is, "just create heaps of content".   But the truth is that it must be the right kind of content, aimed at the right prospect, and promoted in the right way, if it's to be effective.
Step 6: Next, flip the script with an email about the "Consequences of Inaction" – what's the worst that could happen if the prospect doesn't solve their problem right now, or they end up with a sub-optimal result?
Many people are motivated more by "Moving Away" factors than "Moving Toward" factors. So tell them what they need to be moving away from.
Step 7: Drop another "Value Bomb" – either another big, juicy tip, or a further resource that adds genuine value to the prospect's situation and rewards them for sticking with your email sequence.
Step 8: In your last email, simply ask, "Are you still interested in X?" or "Do you still want help solving Y?", and wait to see who responds. These are the people with whom you can open a dialogue.
Set up once – profit forever.
This 8-step structure is a reliable format for building email sequences that generate commercial outcomes like more leads and sales.
And the best part is that once this is set up, it keeps working for you for months or years to come.
What other emails have you found work well as part of a client-getting sequence? Let me know in the comments below…
FREE Video Series
"The Sales Lead Machine Blueprint"
Specifically for marketers of complex services and major products
FREE VIDEO SERIES