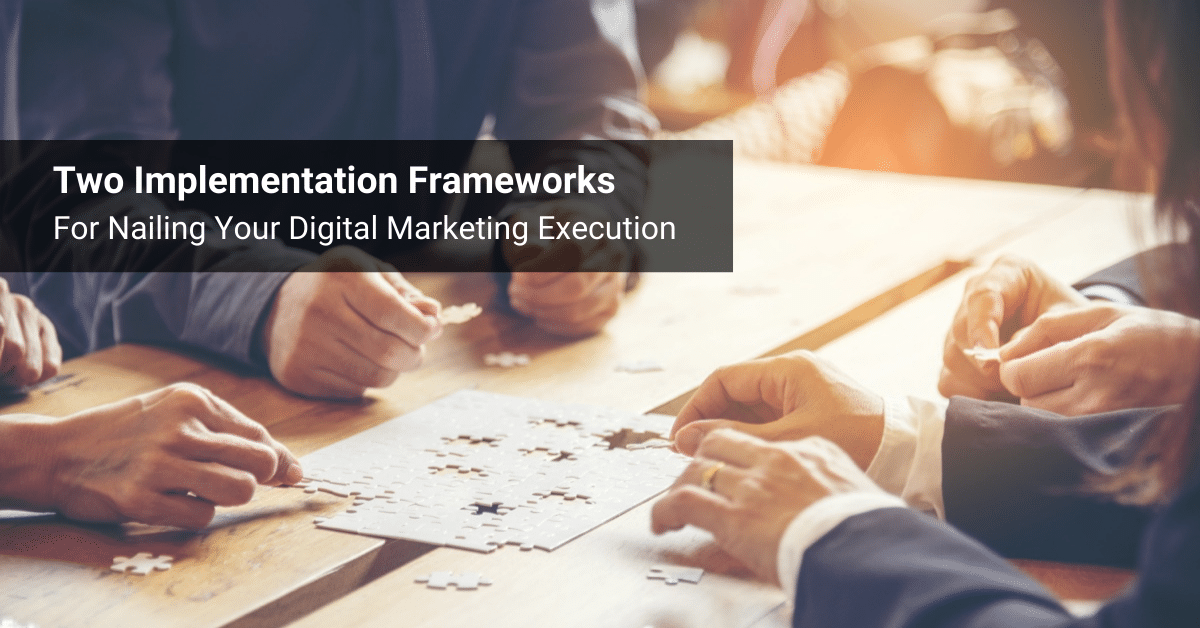 With all the rapid changes in digital commerce, coupled with the customer acquisition success stories you may have seen, it's easy to get excited by the potential of digital marketing in your business.
But for several years I've observed the pattern where digital marketing efforts start with a hiss and a roar, before running out of steam as you and your team get busy and and preoccupied with day to day operations.
I don't want this to happen to you.
So let's talk about two Digital Marketing Implementation Frameworks for ensuring your digital marketing gets done on a steady and consistent basis, all year round.
These are frameworks we deploy at Marketing Results for clients – but the concepts are equally applicable to an in-house team, or remote team.
Framework #1: The Expert Team Model
Framework #1 is the Expert Team model – because digital marketing is a team sport.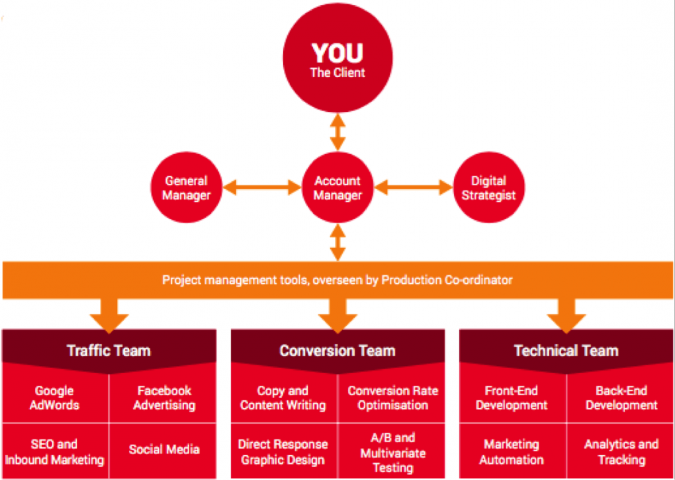 The same brain that is great at formulating digital strategy is not the same brain that is likely to be a gun at writing direct response copy, conversion-oriented web design, split-testing landing pages, implementing marketing automation systems or executing Google Ads or Facebook Advertising campaigns.
Yes, it's possible to hire a "generalist" who can do a little bit of everything, but they tend to be strong in 1 or 2 areas, average at many things, and weak in a few areas. So you end up with an inconsistent result.
That's not to say that generalists don't have their place. The best generalist role for a good generalist is the "Account Manager" or overall co-ordinator of your digital marketing activity.
So the implementation team ends up looking something like this:
You have a digital strategy that you overhaul annually, and revisit quarterly (more frequently if you're growing very fast).
You have an Account Manager function, responsible for co-ordinating your implementation team.
And you have a team of specialist implementers who execute most of the "doing" work.
At Marketing Results, we provide our clients with the key people you need in the right quantities to execute your strategy on a turn-key basis. The most commonly leveraged combination of expertise at Marketing Results is a tight-knit team including:
An Account Manager (the strategist and coordinator)
A Paid Traffic Specialist
A Direct-Response Copywriter
A Direct-Response Designer
A Technical Integrator (also known as a front-end developer or HTML coder)
This model is also good because it gives you access to very specialised expertise on a "part time" basis, that would otherwise be hard to access (e.g. high end web analytics experts, or sales funnel architects).
That said, you can also execute this same concept in-house if you have the time, expertise and inclination to "project manage" a team of providers from websites like Upwork or Freelancer.
So that's Framework #1 – get an expert team in place.
And here's Framework #2:
Framework #2: Implementation Rhythm
So let's say you have the right strategy… and you have the right team.
That's a great start! But the wheels can still fall off if you don't do the right things in the right order, all year round.
Because even the best strategy is useless without steady and consistent implementation. Conversely, myopic deliverable-pushing without strategic oversight can quickly get off track. You end up focusing on "activity, not results", which is the death-knell of Return On Investment.
Implementation Rhythm is a concept that bridges the divide between high- level strategy and day-to-day delivery. Here's how it works: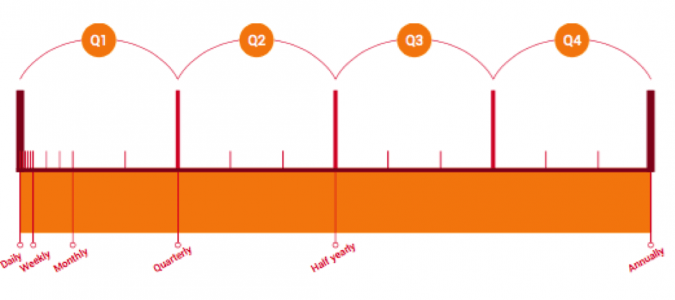 Tactical Delivery (1-5X per week)
"Doing" of deliverables by your Expert Team
Tactical Reporting (weekly)
One centralised, business-owner or manager-level report on a weekly basis that covers delivery progress, interim results, insights and next steps is a good way to feel like you know what's happening, without having to micro-manage everything. This is something your Account Management function should perform.
Dashboard Report and Strategy Check-in (monthly)
Approximately monthly, we recommend checking in with your Account Management function to review broader trends and provide a forum for re-alignment, if necessary.
3-Month Plan Formulation (quarterly)
Digital moves fast and the landscape can shift from one quarter to the next. Every 3 months we recommend locking down the next 90 days of specific deliverables in alignment with your overall strategy and based on the next best steps.
Strategy Review (half-yearly)
Every 6 months it is a good idea to really "zoom out" with your strategic hat on and consider key results and high-level opportunities. Doing this avoids the woods-from-the-trees syndrome that so often affects detail-oriented pursuits such as digital marketing.
Strategy Intensive (yearly)
This is where you set aside all your assumptions and take at least half a day out to review all key results, re-set your goals, and re-formulate your plan for making them a reality over the next year. A facilitated session is usually most valuable in order to get an impartial third-party perspective.
Putting These Frameworks Into Action
We developed these frameworks over more than a decade because we recognised a gap between really great strategy and ideas, and rubber-hits-the-road implementation.
In fact I quite often hear from prospects something like, "you digital guys are full of ideas with split-testing this and SEO-that, but the execution never seems to happen according to the plan".
That's a common gripe about the digital marketing industry, and I think a fair one. And it's one perception that I'm out to change.
So how would we do this if we were to work together?
Well, we give you access to an "expert team" of up to 10 individual specialists working on your traffic, conversion and automation campaigns… for much less than the cost of hiring equivalent resources in house.
And as a result, you generate a steady stream of inbound leads to power your business growth.
All the critical components of your online marketing function are taken care of, your time is freed up to finally work "on" the business and not "in" the business, and what you know should be getting done, actually gets done.
If the idea of that sounds appealing, and you're curious to explore further, then the next step is to set up a time to talk, normally via phone in the first instance.
And during that initial chat, we'll evaluate your business and work with you collaboratively to create an immediate plan to increase your sales and profits online.
If you enjoy the conversation and get value from it, we can discuss working together long-term. On the other hand, if what we come up with doesn't align with what you need, there's no harm done and we'll part as friends.
There's no charge for this and there's no catch… simply request your Online Marketing Growth Session and we'll go from there.