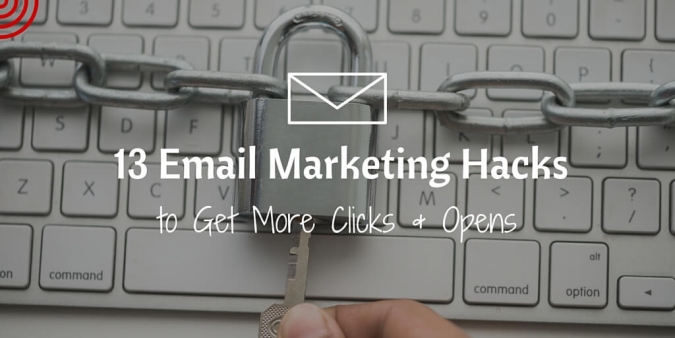 Email marketing is still one of the most effective online tactics for driving bottom line revenue.
If you are looking to grow your business with a digital strategy, email needs to be at the core of it.
Everything else… content creation, paid ads, social media marketing… it's all somewhat pointless if you don't find a way to capture email addresses, and sell something to these new prospects in their inbox.
But even if you attract a large amount of subscribers (prospects) onto your list – how can you deliver an unforgettable experience that will make them want to open, click and eventually buy?
Today I want to share 13 email marketing hacks that will help you do just that – encourage more engagement with your subscriber list, which inevitably means more revenue for your business.
Here goes…
1. Set expectations up front
Let's start at the beginning…
What happens when someone signs up for your email list?
No doubt you send them a welcome email, or perhaps a free gift for signing up.
Welcome emails, on average, get higher open rates than just about any other email.
Why? Because they are ridiculously relevant to an action that person just took.
They knowingly signed up for your list and in return they received an email.
There was no confusion, and they remembered exactly why they were getting the email in the first place.
This welcome email is a great opportunity to set some expectations with new prospects. People don't want to be surprised by what they are about to experience. Tell them exactly what they've got themselves into, and then give them the option of choosing not to come along for the ride if it sounds like too much.
How regularly will you send emails? What type of emails will you send? Will you sell anything? If you sell something, what is it going to be?
The more up front you are with your email prospects, the more trust and credibility you build. This equates to great open rates from day one.
Here is a snippet of how Ryan Deiss from Digital Marketer initiates new email subscribers;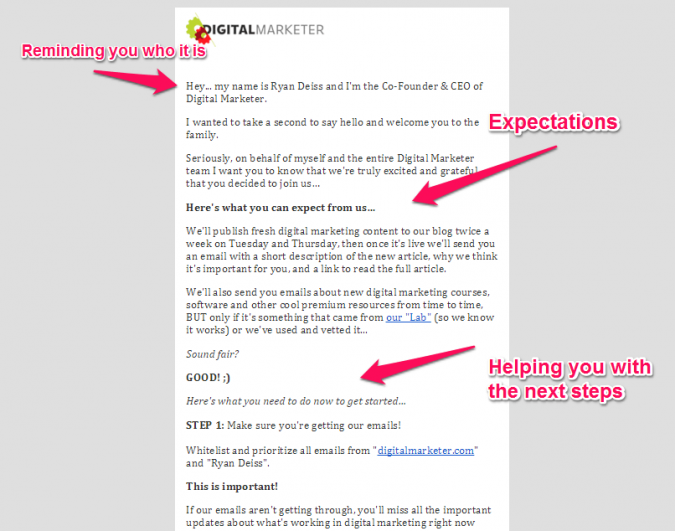 2. Test your send frequency
Just because you tell people how often you will email them, doesn't mean you've got it figured out.
A common theme that will come through with these 13 email marketing hacks is that testing is essential to improve results.
If you send emails TOO often, people might get irritated and unsubscribe from your list.
Or on the flip side, if you send emails too infrequently, prospects might forget who you are and unsubscribe from your list.
Every industry and prospect is unique when it comes to how many emails they like to receive, so that's why it is an important element for you to test and optimise.
For example, by sending 2 emails a day you may see sales climb BUT more people opt out of your list.
This forces you to make a decision about immediate customer value versus long-term customer value. There are always trade offs to be made, and it is dependent on your context and objectives.
3. Pick a good time to send
The hard thing about email marketing is that it's cut throat.
If you don't grab someone's attention in the few seconds you have to do so with a catchy headline, you quickly end up in the trash can, junk mail or lost at the bottom of a crowded inbox.
That's why you need to find the best possible time to send your emails, ensuring they are seen and opened.
The more opens you get from a recipient, the less chance it will get sent to their junk mail and the better performance you will see over time.
Statistics tell us that Tuesdays are the best day for sending emails, and the highest open rates are between 2 and 5 pm.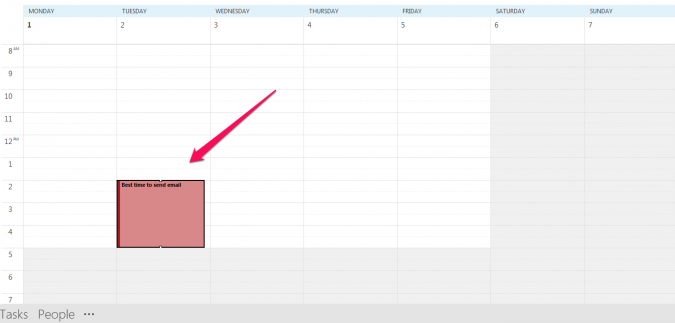 4. Segment your list
The more specific and tailored your emails are to an individual, the more chance they will open them.
This is where segmenting your list plays a part in clicks and open rates.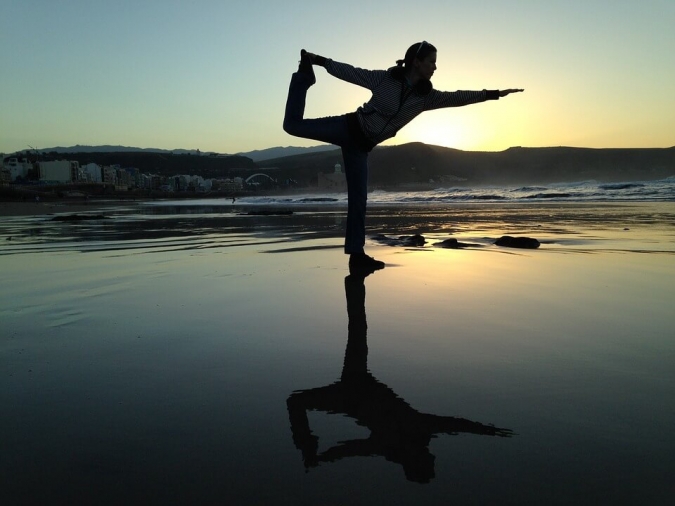 Let's take a Health and Fitness business as an example – a gym.
On their list they have prospects who are interested in all sorts of different sports, healthy eating and exercise topics.
Of that list, there is about 10% of them that are interested in Yoga and attend Yoga classes.
If they are running a discounted deal on Yoga classes, what do you think would make more sense: a broadcast email to the WHOLE list, or an email just to the 10% of the list that are interested in Yoga?
Of course the second option makes more sense.
You can begin to segment your list as new prospects take specific actions – such as clicking on links, downloading something from your website or previously purchasing something.
By segmenting your list and sending emails specifically to each segment, you can make an effort to further tailor your message to meet the needs of that group. This results in more opens, clicks and purchases.
5. Split test subject lines
We're back to testing again… This time I want to discuss subject lines.
The single most important thing influencing whether or not someone OPENS your email is the subject line. And of course, if they don't open it first they can't click on the call-to-action inside.
The more emails you send, the more you will come to realise that headlines mean different things to different people. This means, different words and structures influence different people to take action. Not to mention the psychology of their mood and context of their day at the time they receive the email.
To improve your email subject writing, get into a habit of brainstorming 10-15 headlines for each email and picking the two you think will work the best.
Once you have two options, then split test them with a small group on your list before choosing the final subject to send to everyone else.
In the Yoga example above, let's say you have 10,000 prospects on your list interested in Yoga.
To figure out what subject headline will be most effective, send 'Subject Option 1' to 1,000 people, and 'Subject Option 2' to 1,000 people.
For the two options; track opens, clicks and unsubscribes.
Then, for the subject line that performs best with this sample group, send it to the other 8,000 people interested in Yoga.
6. Shorten your subject lines
Most email providers give you a short preview of an email subject line… (especially on mobile devices)
This preview is what most people use to decide whether or not they will open an email.
What this means is the first few words of your subject line are far and away the MOST important when it comes to encouraging an open.
Research conducted by ContactMonkey reinforces this theory, suggesting the best performing subject lines are between one and three words long. And once you get any longer than that, open rates can drop by as much as 60%.
That's 60% of your prospects not opening your email just because your subject line is slightly too long.
Entice people to click on your email with benefit driven language, questions or curiosity…. But always keep it as short as possible.
7. Use power words
Power words make people FEEL something, they initiate emotion and spark action.
If you can use an appropriate sprinkling of power words in your email marketing headlines, they will get opened more often.
Power words are words like 'hack', 'volatile', 'eye-opening' and 'shameless'.
They transport your prospect emotionally to a place where they are inspired, petrified or desperate to find out what's on the other side of the email in their inbox.
I could go on for days about this topic, but that'd be re-creating the wheel…
Here are 317 power words from Jon Morrow at Boost Blog Traffic you should consider using in your email campaigns.
8. Re-send campaigns
I learnt this gem from Adam Franklin and Toby Jenkins in their book Web Marketing That Works.
It's so simple yet so ridiculously awesome.
Here's how it goes…
When you send an email campaign to your subscriber list, the chances are only something like 30-50% of them open it.
That's over HALF of your list that don't even get to see what's inside. Which means they are either making a decision purely on your subject line, or the email has slipped through the cracks of their inbox.
After sending a broadcast email to your list, wait about 7-10 days.
After waiting for 7-10 days, re-send the exact same email to everyone who "Didn't open" the original campaign. Except, this time change the subject line.
Of course this group of people are most likely less engaged than the group that DID open the original email. But what you will find is that about 10-15% of the others will open and click on the re-send.
That is a massive chunk of people you weren't engaging with otherwise.
9. Test on multiple platforms
With growing uptake of smartphones, it's inevitable that your email campaigns will be opened on different devices.
To increase your chance of click throughs and opens, your email marketing needs to be ready for this change.
To effectively communicate with people on mobile devices you need to make sure your emails are responsive, well formatted and easy to ready on small screens.
Most email software providers have an option to view your campaign on different devices before you send.
Here is what it looks like within Active Campaign;
 
10. Make the "From" name trustworthy
Who are your subscribers expecting to get an email from?
Is it you? Is it your business? Is it your Marketing Director?
Who has already established a base level of trust with your prospects from the spot they signed up?
The "From" name of your emails should come from a recognisable name. Someone your prospects know, trust and respect.
Let me illustrate this with a left-field example…
Have you ever got a credit card bill with some random company name on it? The immediate feeling you get is "Oh crap, this must be fraud!".
After some digging, you realise that it's actually the local convenience store you bought milk from last week. They just have some funky, un-recognisable name on their payment system.
If you send an email to someone with a "From" name they don't recognise, they automatically feel ripped off. The same feeling you get when there is a weird name on your credit card bill.
Don't do all the hard work to get someone's email address just to stuff it up by emailing them from an address or name they have never heard of before.
11. Give them something for free
The highest click throughs you'll ever get will be when you give something away for free.
This doesn't have to be a product, or your time… Information is good enough.
If you give away helpful information in the form of a checklist, cheat sheet, video, infographic or some other form of content – your click throughs will skyrocket.
But what good does this do for your bottom line?
Of course there is no immediate ROI from giving away free information, but it certainly increases your trust and credibility with your prospects.
Now you are helping them with their problems, not just trying to sell them something.
It's why content marketing and the sales funnel are a match made in heaven.
Plus, by increasing click throughs it gives you an opportunity to segment your list.
Whatever it is you give away should neatly sit within one of your list segments, and anyone that clicks on that link can be pushed into that segment.
12. Write emails to one person (personalise)
Everyone knows they are getting a mass email from you. But they still engage with it more if it feels like you are writing to them…
It's why "Newsletters" don't work very well any more – they are too impersonal.
Drop words like 'subscriber list' and 'our community'. Instead, opt for more personal words such as 'you' and 'your'.
Give your prospects the feeling that you truly understand the challenges THEY face, and that THEY are unique and important… Not just like everyone else on your list.
13. Copy others
I'm a big believer that if someone has done it well before, why start from scratch.
Learn from the best email marketers and copy elements of their tactics… It will save you a bunch of wasted time and energy.
Even if you've got no idea who the "email marketing experts" are, think of your own experience.
What emails do you usually open? What emails do you immediately delete? What makes you take action? Are there any emails that have compelled you to buy something?
Have a think about what made you do all these things, and then attempt to replicate it with your own efforts.
Put yourself in the shoes of your prospect and write emails that would make you open and click an email from a strange company.
Summary
Email marketing is an important cog in your online lead generation and business growth…
But only if you nail it.
Too many people see little to no results from sending emails because they are doing it all wrong.
It's not a perfect science, in fact far from it. To see results you will need to test, test and test again until you find things that continue to work for your situation.
That being said, if you apply the 13 email marketing hacks I've put forward in this article you will see an generous uptick in open rates and click throughs.
The rest is up to you.
FREE Video Series
"The Sales Lead Machine Blueprint"
Specifically for marketers of complex services and major products
FREE VIDEO SERIES