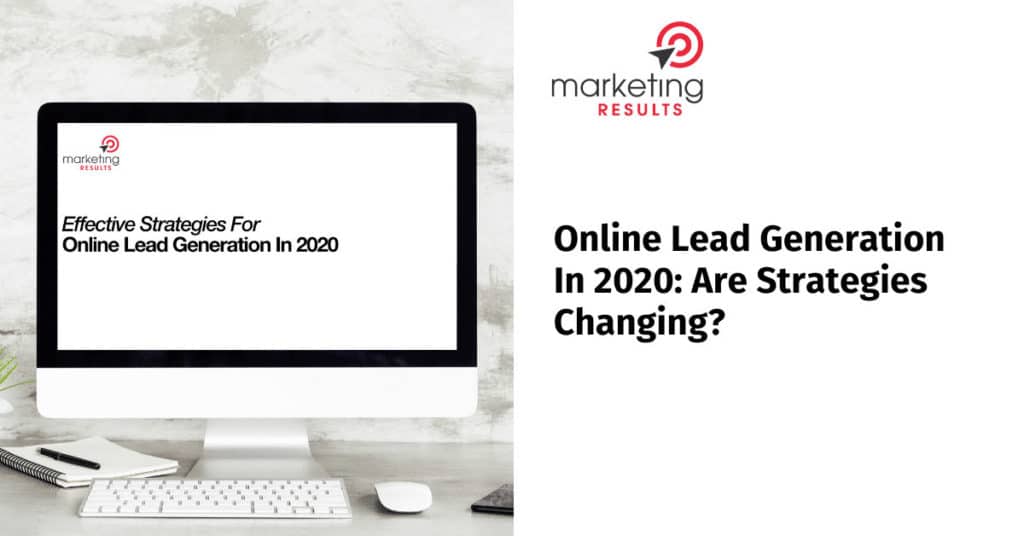 In this video, Digital Strategist Ben Sweetlove double-clicks on some of Marketing Results' best online lead generation strategies for 2020.
Video Transcript
So I've had some great conversations with clients recently about the cutting-edge stuff. What is working now, and what will propel us into 2020 to ensure that our lead generation campaigns are effective. And when you think about it, the Internet is an evolving environment. Platforms are evolving. The way that we interact with digital platforms is evolving. So it's important as marketers that we make sure that our strategies evolve along with it.
Now the fundamentals will remain the same. So the core strategy behind what we do to generate leads, that will remain the same. But we do need to modify it slightly to make sure that we are keeping up with, one, evolving platforms and, two, the evolving mode in which humans interact with the Internet and social media.
So I want to talk about some of those strategies that we are employing at the moment. Hopefully you can use these in your lead gen campaigns.
So, the first one is extended nurturing runways, and gone are the days, sadly, of rapid short-term lead generation. So, 18 months ago, two years, three years ago, it was effective to take a cold audience, so an audience who is not familiar with who you are, and show them a bottom of funnel offer landing page. So enquire now or request a strategy session or a free consultation or whatever the start of your sales process might be. So a cold audience to that offer, it did work quite well.
Now, for a number of reasons, I think people are becoming more skeptical and people need more nurturing. Now we need something in-between. We need nurturing in-between to build a bond, form a connection, so that your prospects are more comfortable in saying, "Yes, let's have that chat." "Let's get started with your sales process."
So how we do that… So how we inject and extend it or how we increase that nurturing runway for our clients: Value first campaigns. These are a great one. There's a couple ways in which you can do this. There's either email marketing or the Facebook remarketing platform where value is provided so there's less sales messaging.
Now that's still important. Sales messaging is still obviously critical with calls to action and that sort of stuff, but we're also weaving in more and more value, more problem-solving content. More content that demonstrates or shows your prospects how they can solve their problems or create their desired outcomes. When you share that sort of stuff, that connection is formed. Stuff like case studies where your prospects can see your product or service in action. Now humans are social animals. We like to see stuff in action before we buy it or engage with it ourselves.
Case studies are a great way of doing that, and a good case study will be a video case study. So if you can get your clients, your successful clients or customers, to record video case studies, that's the gold standard where they talk about where they were, so their problems they had, where they were stuck, when you came in, what you did, the stuff you did to get the result, and then what the end result is. So what you actually achieve for them, and then the positive review from the client. That is a perfect case study.
The more and more of those you can share in these value first campaigns, the stronger your overall lead gen campaign's gonna be.
Now Google did some research on the digital path to purchase which is the journey or the decision-making process that a prospect must take before they purchase, and it was something like 3.2 touchpoints are needed on average. Now, sure, that is definitely an average and some industries are gonna be different depending on your offer, your responsiveness of your audience, and so forth. But it's a good lesson in remembering that you need to nurture.
You need to extend the nurturing cycle and nurturing process so that when it does come to the point when you're saying, "Enquire now," or "Start you sales process," whatever it might be for you, that bond is there. The connection is there. The trust is there, and your prospects know because they've witnessed it, that you can actually do what you say you're gonna do.
The next strategy is differentiation using content. Now, differentiation is a core part of our methodology, and we do focus on that intensely during our Strategy 360 process.
When you think about it, it's difficult, but possible. It's difficult to market a brand if they are the same as everybody else, when you think about it that way. So the more differentiated they are, the more effective their marketing is gonna be naturally just by naturally speaking because they are naturally differentiated. They do get, there are unique benefits of working with them.
However, I understand that it's hard to do that sometimes. So if you're a, if you offer a particular service, for example, or a product, you can't just go and completely reinvent what you do, and a lot of potential clients and clients that I work with or speak with, they express that. They're like, "Well, we can't. "We can't really sort of do a huge overhaul "of our business." And I understand that.
One way in which you can differentiate yourself is using content. So sharing content that solves problems, that achieves outcomes. That really demonstrates that you can, that you know your stuff, that you're a thought leader and you contribute to the industry. That is a great way to differentiate yourself, and then using content.
That goes back up to extended nurturing runways. So content is obviously core to that. You are solving problems, demonstrating your expertise, but at the same time, you are differentiating yourself. Next, relying less on email for nurturing.
So one thing I mentioned just before was the Facebook remarketing platform. This is a very, very effective platform for nurturing, and I do have a recent blog post. It talks about the way in which we use the remarketing platform to create a step-based approach based on four-day windows. So email is good, don't get me wrong. It is a proven platform, but it's really saturated, and you've gotta achieve that cut-through. So, yes, we're still gonna rely on email. We are gonna advise and implement email campaigns, so broadcast campaigns and also automated campaigns, but rely less on it because of the Facebook remarketing platform, and also the Google Display Network remarking platform, as well, is a great way to nurture too.
Now marketing automation to increase core connectivity. One of the biggest problems that we're seeing at the moment is leads are being generated, but it takes ages for them to answer their phone or they just don't answer at all. It seems to be a relatively common problem based across a number of industries, but it's still an issue.
One of the ways in which we can address that is by sending, so two things. One, sending SMS messages to people as soon as they enquire saying, "Hey, thank you for enquiry. "Somebody will call you soon." In that automated message you can have a video, which says exactly that, like a, I've been explaining video's a great platform. Use video to build that connection with your prospects.
Also email marketing. So if you do capture an email address as well as a phone number, then send an email as well saying, "Hey, we're looking forward to speaking with you." Contain the same video that you've shared already.
The next one is chatbots. Now, chatbots are a great, they're a great tool to use when they're used correctly. And when you first use a chatbot platform, when you understand the power of all the stuff you can do, it's pretty exciting, but you do need to be really careful in what you're saying. People are pretty skeptical. If you try and pretend to be human when you're in fact using a chatbot, it might have the negative effect. The reverse of what you're trying to achieve. You're gonna waste your money by sending traffic to a chatbot that isn't properly optimized. So it's a great strategy, but as long as its used in the right situation and you say the right stuff.
And lastly, taking advantage of new ad formats. So, both Facebook and Google Ads, they do release new ad formats. The benefits are that you achieve cut-through. So visual cut-through where your ads are displayed, and I found that on Facebook with new ad formats, they often allow you to use them or they, you can use them for cheaper overall investment. So the cost per impression or cost per click or whatever you're metric is, is generally less expensive if you use these new ad formats. Whether that's Facebook encouraging you to use them or users are actually really enjoying them and are interacting with them, which is reducing your overall cost for using that platform. Regardless of that, take advantage of them. Use what's available to you to achieve that cut-through when you are going about marketing.
---
If you've found this article useful, feel free to use these strategies in your own campaigns.
Or if you want to discuss a more tailored, "done for you" service (where we take care of your lead generation for you), then get in touch to talk more about your situation and how we can add value.
GET STARTED NOW BY REQUESTING A FREE GROWTH SESSION